SYTYCD: Week 6 Preview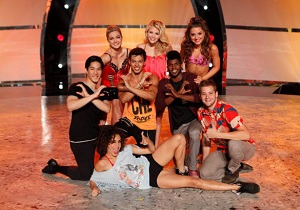 By Stephanie Wolf.
The competition continues this week, as the Top 8 dancers perform for America's votes. It's another 'star-studded' episode, filled with guest judges, special performances, and some of our favorite past contestants dancing as all-stars. Here's a sneak peak at this Wednesday's episode.
Special guest Jesse Tyler Ferguson (Modern Family) reclaims his spot on the judges' panel with Mary Murphy and Nigel Lythgoe, bringing critique for the dancers and some additional comic relief. Jesse is a huge fan of the show and appeared as a guest judge last year.
At this point in the competition, Eliana Girard is on fire. Last week she soared (figuratively and literally) with all-star Alex Wong at her side in a killer Stacey Tookey contemporary routine. But could she be in trouble this week? Over the weekend, the versatile ballerina expressed some concerns on her Twitter feed about her routine. She tweeted, "A huge challenge this week!! Good stuff though!" We're sure Eliana will handle whatever her choreographer throws at her with grace and charm.
We can also expect an incredible lineup of all-stars this Wednesday, including ballroom dancer Ryan Di Lello. Ryan earned a ticket on Mary's hot tamale train week after week on Season 5 and, over the weekend, he made the big announcement on Twitter. "Hey guys I'm going to be an all-star next week on [SYTYCD] Excited to be back!" Season 7's Alex Wong also returns this week as an all-star along with the adorable Season 8 winner, Melanie Moore, who shared her good news on Twitter as well. "Are you ready for the surprise? I'm going to be an all-star this week!! So excited to be back!" Other all-stars are Stephen "tWitch" Boss (Season 3) and Allison Holker (Season 2).
Tune in Wednesday night to find out which two dancers go home and who continues on to become "America's Favorite Dancer."
Photo: ©2012 FOX Broadcasting Co. Cr: Adam Rose