Tap show 'One More Than Two' premieres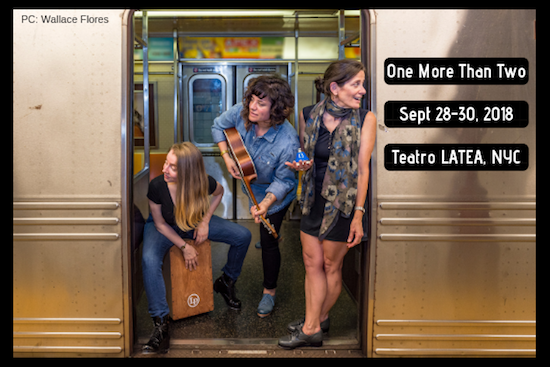 Three renowned dance artists come together for the first time in the premiere of One More Than Two at Teatro LATEA in New York City on September 28-30. A wide-ranging show, One More Than Two will feature tap dance and live accompaniment by Hillary-Marie (NJSCA Choreography Fellowship 2017), Jenn Rose (Dancebreak 2018, Barrymore Award Recipient) and Lynn Schwab (Tap City On Tour, RumbaTap).
A collaborative exploration of looking back and living forward conceived and created by Hillary-Marie, Jenn Rose and Lynn Schwab, directed by Matthew Decker (three-time Barrymore Award recipient, Theatre Horizon), featuring musical arrangements by Dan Kazemi (two-time Barrymore Award recipient, Milwaukee Repertory Theatre) and musical direction by Jonathan Rose (Color Purple, My Fair Lady), lighting design by Cha See (Cute Activist, Prague Quadrennial), sound design by Wallace Flores (Falsettos, Indecent) and set design by Tom Gleeson (Princess Grace Award 2010), One More Than Two is an unexpected alignment, of life paths and friendship.
"Bringing this piece to life has been an exciting experience," stated Director Matthew Decker. "I am deeply moved by the commitment of these women as they tell this beautiful and human story through tap dance."
This virtuosic exploration of time will premiere September 28-30 at Teatro LATEA, promising to leave audiences feeling lighthearted and hopeful.
Tickets are available for purchase at OneMoreThanTwo.com or by calling 973-932-0561. The venue is located at 107 Suffolk Street, New York, NY.
Photo: One More Than Two. Photo by Wallace Flores.