'To the Sea' returns to Santa Monica Pier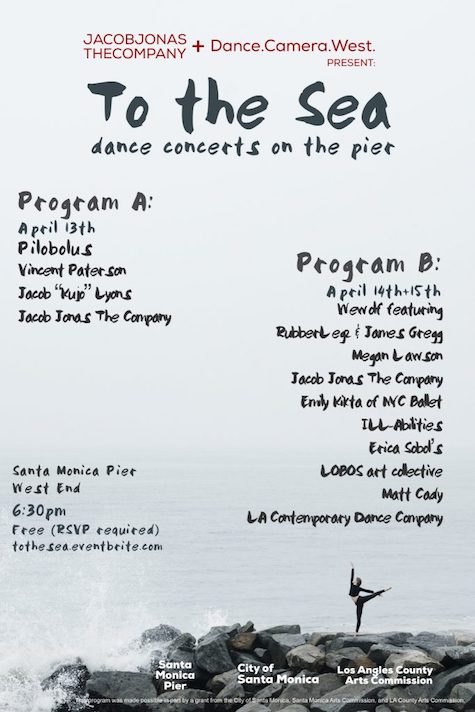 Jacob Jonas The Company—the 21st Century dance company that quickly gained attention for its blend of contemporary ballet, breakdance and acrobatic movement—will bring back its new event To the Sea: Dance Concerts on the Pier this weekend.
As part of the 17th Annual Dance Camera West Festival, To the Sea will be presented free to the public on the West End of the Santa Monica Pier for the second year. It will present individual choreographers and dance companies from all dance forms and genres performing underneath the open sky beside the Pacific Ocean.
This year's line-up includes two distinct programs, promising to present "the best of dance both locally and nationally". Program A on Friday, April 13 at 6:30 p.m. includes performances by Pilobolus, Vincent Paterson, Jacob "Kujo" Lyons and Jacob Jonas The Company. Program B on Saturday and Sunday, April 14 and 15 at 6:30 p.m. includes Wewolf (featuring Rubberlegz and James Gregg), Megan Lawson, Emily Kikta of New York City Ballet, ILL-Abilities, Erica Sobol's LOBOS art collective, Matt Cady, LA Contemporary Dance Company and Jacob Jonas The Company again.
While completely free to attend, the performances require RSVPs. To RSVP, visit www.eventbrite.com. Watch the trailer here.
Head to www.dancecamerawest.org/2018schedule to take in the full 2018 schedule for the Dance Camera West Festival.
---