Triple-bill closes Louisville Ballet's season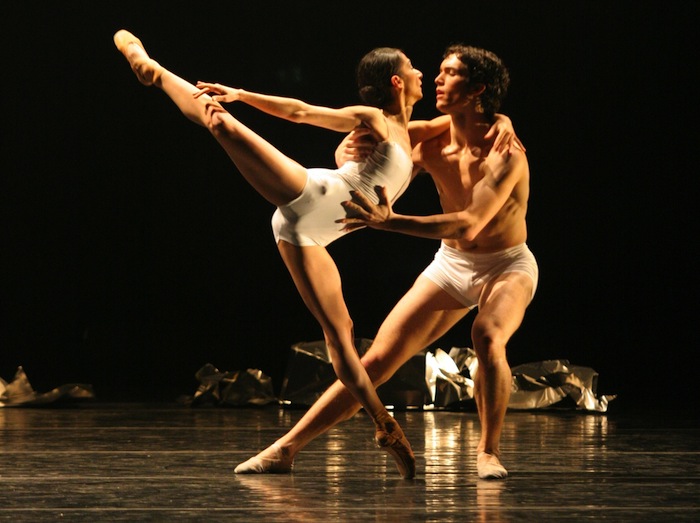 The Louisville Ballet closes its 2013-14 season on April 4 and 5 with Complementary Voices – a program designed by Artistic Director Bruce Simpson to challenge your perception of dance today. This triple-bill presents the company premiere of Ma Cong's Tethered Pulse, a restaging of Adam Hougland's Fragile Stasis and Val Caniparoli's world premiere of Spaghetti Western. Bruce Simpson marks his retirement from the company with this production.
Making his Louisville Ballet premiere, Tulsa Ballet's Resident Choreographer Ma Cong brings Tethered Pulse to Louisville audiences. Set to an expressive solo cello piece by Zoe Keating, recorded by Joan Jeanrenaud, this piece was premiered by Tulsa Ballet in 2011. Cong has described Tethered Pulse as a piece "about people finding a relationship based on emotional rhythms and feelings."
Many elements in Tethered Pulse are representative of Chinese folk dance and are influenced by the combination of classical ballet techniques and Cong's classical Chinese dance training. Cong has created works for Houston Ballet, BalletMet and Smuin Ballet in the past, among many others.
Louisville Ballet Resident Choreographer Adam Hougland created Fragile Stasis on the company in February 2007. Using an atmospheric score from British composer Gavin Bryars, Hougland's piece uses inventive, athletic partnering to explore the cyclical nature of life.
In Fragile Stasis, dancers interact with controlled chaos in a space reminiscent of a salvaged and dystopian place, rising from the orchestra pit to take over the stage. Hougland has created original works for Morphoses/The Wheeldon Company, Introdans in the Netherlands, The Limon Dance Company, The Washington Ballet and Ballet Memphis, among others.
Closing out the program is a world premiere from Val Caniparoli. Inspired by the iconic film scores of Ennio Moriccone, Caniparoli's wit is on full display as he takes a fresh and inventive look at the Spaghetti Western film genre brought to life through costume designs by Sandra Woodall. Caniparoli's work and style are familiar to Louisville audiences. His beautiful and expressive Lady of the Camellias opened the 2012-13 season.
Caniparoli's most recent commission of The Lottery for Ballet West (based on the Shirley Jackson short story) has received critical acclaim. Caniparoli has contributed to the repertories of more than 40 companies, including Texas Ballet Theater, Joffrey Ballet, Boston Ballet, Pacific Northwest Ballet and Ballet West, among others.
Performances of this mixed program take place Friday, April 4 at 8 p.m. and Saturday, April 5 at 2 p.m. and 8 p.m. in Whitney Hall at The Kentucky Center. Ticket prices start at $30. Information and preview videos of Tethered Pulse and Fragile Stasis are available at www.louisvilleballet.org.
Photo: The Louisville Ballet in Adam Hougland's Fragile Stasis. Photo courtesy of The Louisville Ballet.