Troupe Vertigo launches new tour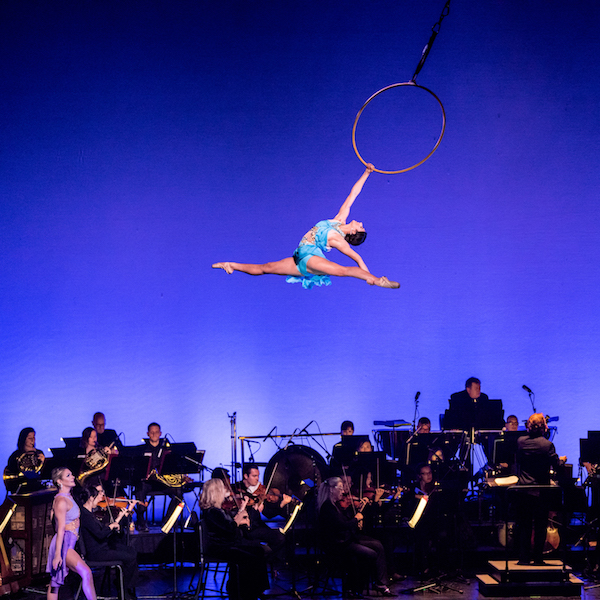 Troupe Vertigo, whose innovative circus-dance-theater works redefine visual space with displays of mental and physical prowess, recently launched its 2018-19 Symphony Cirque Series. Now in its second year, the one-of-a-kind series features a range of programs, created in collaboration with national symphonies, that highlight popular films, Broadway hits and holiday classics. Audiences in Phoenix, Baltimore, Salt Lake City and Seattle, among others, can soon experience the synergy between symphony musicians and circus-dance-theater artists as they share the stage for a spellbinding performance.
With artistic direction by wife and husband team Aloysia Gavre and Rex Camphuis, Troupe Vertigo's programs create dynamic shows that have garnered the company critical acclaim. Tchaikovsky's The Nutcracker is re-imagined as Cirque Cracker, with Troupe Vertigo's ensemble of circus artists and dancers climbing, contorting and soaring to the "Waltz of the Flowers." Cirque Cinema creates its signature aerial pictures by weaving drama from The Greatest Showman and Shape of Water with action from Superman and Mission Impossible. Cirque Dances leads audiences on a tour of rhythms from every continent, tying together styles such as salsa, merengue, tango, samba, folk dances and the waltz.
"Setting our circus-dance-theater creations to the work of orchestral symphonies, on a shared stage, has been an artistic challenge which has stretched our company in new ways," stated Founding Artistic Director Alysia Gavre. "Working alongside a creative genius like Jack Everly, Principal Pops Conductor of the Indianapolis Symphony, and many other top symphony directors, has empowered us to create new musical circus collaborations for the symphony hall."
Since its founding in 2009, Troupe Vertigo has created innovative theatrical pieces using traditional circus arts forms. The company continues to redefine what it means to work collaboratively across artistic disciplines, while remaining familiar to viewers.
Upcoming Performances for Troupe Vertigo's 2018-19 Symphony Cirque Series Tour
October 22-23: Vancouver Symphony, Canada – Cirque Dances
December 5-9: The Phoenix Symphony, AZ – Holiday Program
December 10-16: Baltimore Symphony Orchestra, MD – Cirque Nutcracker
December 21-23: Tucson Symphony Orchestra, AZ – Holiday Program
January 16-20: The Phoenix Symphony, AZ – Cirque Swan Lake
April 3-7: Baltimore Symphony Orchestra, MD – Cirque goes to Cinema
April 17-20: Utah Symphony & Opera, Salt Lake City, UT – Cirque Dances
April 29-May 1: Viterbo University Bright Star Season, WI – Cirque Dances
May 31-June 2: Seattle Symphony, WA – Cirque goes to Broadway
June 19-22: National Arts Centre Orchestra, Ottawa, Canada – Cirque goes to Broadway
Photo courtesy of Troupe Vertigo.
---