Vincent Simone & Flavia Cacace say farewell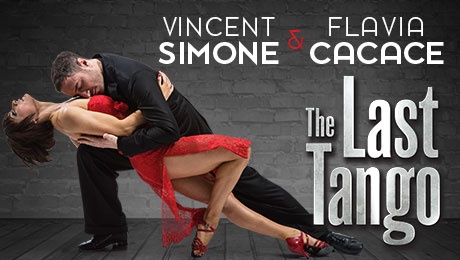 The U.K.'s favourite Strictly Come Dancing stars present their ultimate farewell show this fall fresh from their sell-out hit shows Midnight Tango and Dance 'Til Dawn. Dancing duo Vincent Simone and Flavia Cacace have created The Last Tango, set to premiere October 5-10 at Richmond Theatre outside of London.
With 20 years of partnering under their belts, Simone and Cacace are now known for their work on Strictly Come Dancing and as World Dance title-holders. In their careers, they have created and starred in their own West End productions.
These beloved Argentine Tango Champions will say goodbye to the stage with the help of some friends, including narrator Teddy Kempner, vocalist Matthew Gent and resident director Tony Whittle.
The Ensemble will feature Callum Clack (2015 Dance 'Til Dawn tour, Aladdin at Hull New Theatre, 2012 Olympics and Paralympics Closing Ceremonies at London Olympic Stadium), Rebecca Herszenhorn (Snow White and the Seven Dwarfs at Milton Keynes Theatre, the Matt Flint concert West End Heroes, A Chorus Line at London Palladium), Aaron James (Sinatra at London Palladium, Fame U.K. tour, The Brit Awards, The X Factor, Britain's Got Talent), Rebecca Lisewski (Puttin' On The Ritz tour, Dance 'Til Dawn tour, Tiger Lily in Peter Pan at Milton Keynes, Gotta Sing, Gotta Dance tour, Carousel on the West End, Mamma Mia on the West End), Jemima Loddy (Dance 'Til Dawn tour, Riot Rhythm) and Grant Thresh (Wicked U.K. tour, Hooray for Hollywood in Monte Carlo and Mother Goose at Millfield Theatre.)
The Dance Captain is another Dance 'Til Dawn tour alum, Ian Oswald, known for his re-creation of the choreography for Priscilla Queen of the Desert's U.K. tour. He was the assistant choreographer on The Return of Jack Frost at Worthing Pavillion; Fred Casely in the Chicago U.K. tour; Jules in Priscilla Queen of the Desert at Palace Theatre, London; Rote Steifel Vampire in Tanz der Vampire in Germany; Don Kerr in A Chorus Line in Lowry, Salford; in Michael Flately's Celtic Tiger international tour; in the Simply Ballroom U.K. tour; and in the feature film Pirates of the Caribbean.
The Assistant Dance Captain is Diana Girbau, from Snow White and the Seven Dwarfs at Birmingham Hippodrome, Grease in Spain, The Jazz Dance Company in the U.K. and the original cast of Mamma Mia! on board the Quantum of the Seas (RCCL).
For more information, visit http://thelasttangotour.co.uk. Don't miss your last chance to see Vincent Simone and Flavia Cacace do what they do best!