Violette Verdy passes away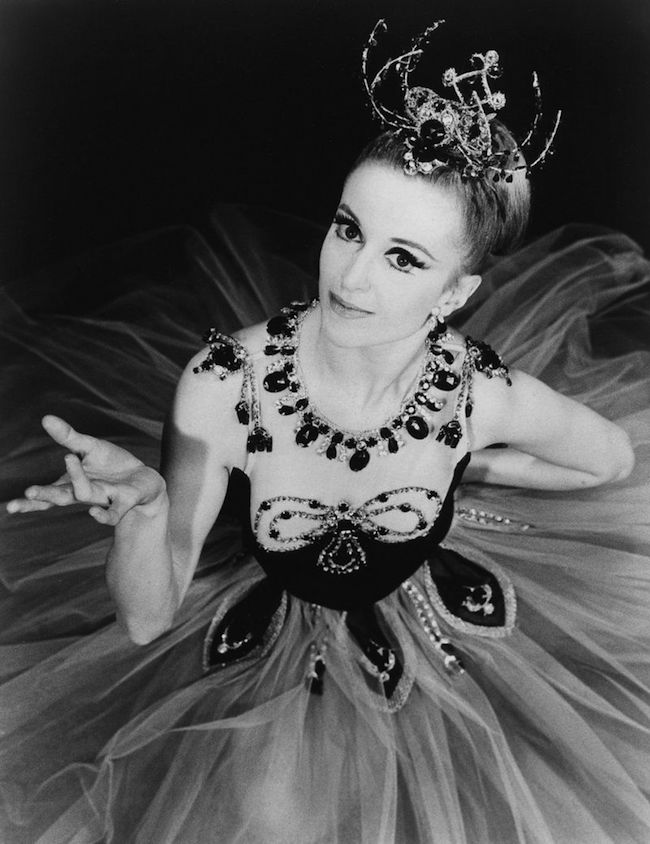 Celebrated French ballerina Violette Verdy, one of the leading ballet dancers of the 20th century and a formidable director, has passed away at age 82. Verdy danced for a slew of prestigious companies in Europe and America, and later in life she directed Boston Ballet. She broke barriers when she became the first female artistic director of the Paris Opera Ballet.
Cynthia Harvey, a former American Ballet Theatre principal and the current artistic director of the En Avant Foundation, posted on social media today, "It is with a heavy heart that I report the passing of the divine Violette Verdy."
Artist Services Representative Sharon Wagner announced that her "dear friend for over 50 years and one of the world's leading ballerinas" died "after suffering a stroke." She posted, "She had joie-de-vivre and gave 100 percent to the dance world. Violette will be missed by everyone who knew her around the world."
Living in northwestern France, Violette Verdy started dancing at age 8 during the German occupation in 1942. She had her official professional debut only three years later. Her talent continued to attract attention as she grew older, leading her to eventually dance and tour with the Paris Opera Ballet, London Festival Ballet, Ballet Rambert and La Scala Ballet in Milan.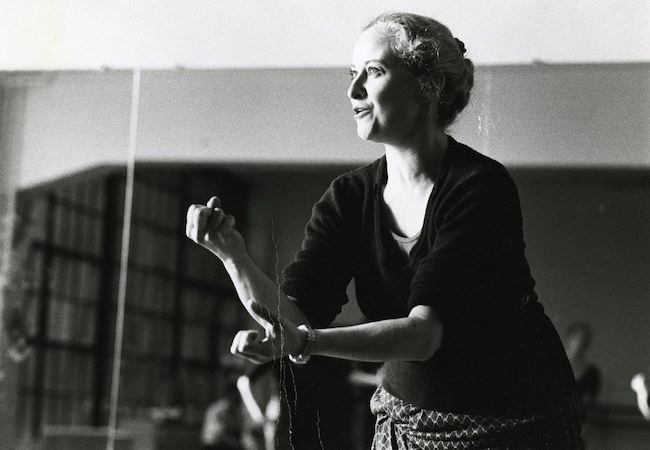 A film she was a part of during a London Festival Ballet American Tour caused the American Ballet Theatre to take notice. Shortly thereafter, she was invited to join the company, bringing her to New York. When ABT temporarily disbanded in 1958, she was the only company dancer requested to join New York City Ballet by George Balanchine. She spent the next 20 years performing with the company and creating various new roles with "Mr. B." [Watch the video below to see her talk about this.]
Of all her "Mr. B" roles, she might be remembered most for Emeralds, the opening ballet of the triptych Jewels. Choreographer Jerome Robbins cast her in another memorable premiere – his Dances at a Gathering in 1969. As a guest artist, Verdy appeared frequently at the Metropolitan Opera House and on tour. In productions mounted by The Royal Ballet, Paris Opera Ballet and Boston Ballet, she performed roles in Giselle, Swan Lake, La Sylphide, The Sleeping Beauty and Coppélia. From 1949 and on, Verdy could often be seen on French, British, Canadian and American television dancing.
After leaving NYCB in 1977, Verdy returned to France and became Paris Opera Ballet's first female artistic director. Three years later, she came back to America to accept the role as associate director (and later, sole artistic director) of the Boston Ballet. Four seasons into this, she moved on to become a NYCB teaching associate and to further coach companies on Balanchine repertoire.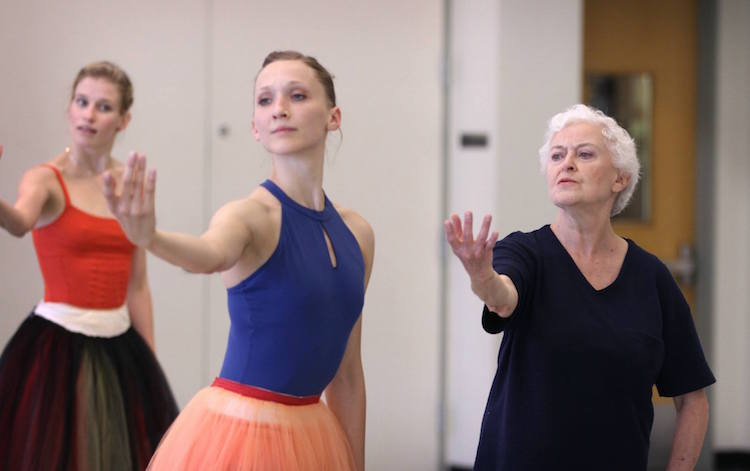 Harvey wrote, "Violette was a champion of the art of ballet and a keeper of the flame of the many Balanchine-choreographed roles that she created. She was effervescent and was a truly genuine person."
In an in-depth article published in The Nation last July, writer Marina Harss noted something that made Verdy stand apart. She wrote, "Ballet, for Verdy, is a spiritual pursuit." She then quoted Verdy saying, "I feel the obligation to make people consider that this is not just a physical activity, a physical technique, but that it points to something higher."
Photo (top): Violette Verdy in George Balanchine's Jewels in 1967. Photo by Martha Swope. Photo (left): Verdy teaching class in 1982 at Boston Ballet. Photo courtesy of the Boston Ballet Archives. Photo (right): Verdy with Pacific Northwest Ballet's Elizabeth Murphy and Leah Merchant in rehearsal in September 2014. Photo by Lindsay Thomas.