Vitacca acquires Payne Academy of Ballet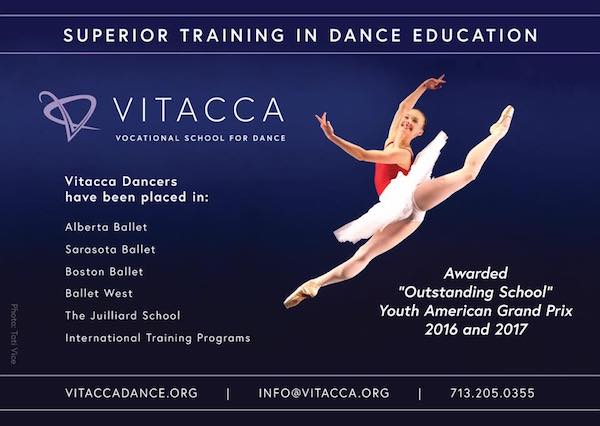 Vitacca Vocational School for Dance's Founder and Artistic Director Kelly Ann Vitacca has announced plans to acquire Payne Academy of Ballet in The Woodlands, Texas. The school will be rebranded as Vitacca Vocational School for Dance Woodlands and welcomes dancers ages 3-18.
Kelly Ann Vitacca was humbled to be asked by Payne Academy of Ballet Program Director Jim Payne and Principal Bridget Payne to take over the well-established academy as the duo moves out of state.
Payne commented, "It was most important for me and Bridget to find the right person to continue what we have built for the past 17 years – someone with compassion, integrity and sound training principles. We feel Kelly Ann and her team are a perfect fit."
As a female entrepreneur and now new mother, Vitacca hopes this expansion will help up-and-coming dancers and The Woodlands community explore the benefits classical and contemporary dance training have to offer.
"Ms. Vitacca is one of the main reasons I fell in love with dance," enthused former student Ashley Tsai. "It was with her that I learned technical concepts and discipline. More importantly, it was with her that I learned how to express the passion and joy I feel for dance through the beauty of movement."
The Vitacca Vocational School For Dance Woodlands will offer three programs: a Children's Program (ages 3-8) including Creative Movement and Ballet; a Academy Program (ages 8+) including Ballet, Modern and Contemporary; and a Pre-Professional Program (ages 13+) including Ballet, Modern and Contemporary.
The Woodlands location will welcome Ballet Master Spencer Gavin Hering and Ballet Mistress Tina Bohnstedt, as well as additional faculty, including Richard Bowman, Steve Brule, Melissa Ludwig and Andrea Dawn Shelley. Returning Payne Academy of Ballet faculty include Michelle Harper, Hannah Ueckert, Julie Voelkel and Shizu Yusada.
Registration for the 2018-19 Season of Vitacca Vocational School for Dance Woodlands is now open. The season begins August 13 and concludes May 18, 2019. Contact Vitacca at 281-367-7185 or WoodlandsAdmin@VitaccaDance.com to register.
The Woodlands community is invited to learn more about Vitacca Vocational School for Dance Woodlands at a free public Open House to be held on Tuesday, August 7 from 3-8 p.m., featuring complimentary classes for all ages. All classes are open for parent/dancer observation. More information can be found at www.VitaccaDance.com.
---