Week 3: Two more dancers take their final spin on the SYTYCD dance floor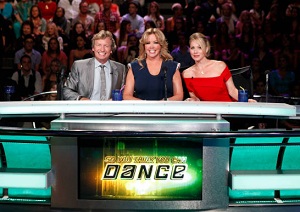 By Stephanie Wolf.
Wednesdays have become bittersweet in the world of So You Think You Can Dance. A new week means a new batch of routines in which the dancers push through their post-rehearsal fatigue and muscle pains to prove to America that they have what it takes to make it to the end of the competition. However, a new week also means we'll have to say goodbye to two more dancers.
The Top 16 open the show with a quirky, Charlie Chaplin-inspired group routine by Tyce Diorio, followed by the usual grand entrance of host Cat Deeley. This week, resident judges Nigel Lythgoe and Mary Murphy are joined by television, film, and Broadway star Christiana Applegate.
Tiffany Maher and George Lawrence II kick of the evening's dance off with a Napoleon and Tabitha D'umo (NappyTabs) krump routine. Completely outside of their dancing element, the two portray exasperated babysitters taking out their vexations through dance. Teeny tiny Tiffany surprises the judges with her abilities to get down and get mean, but the feedback on George's performance is mixed; Mary commends his attempts at the highly physical genre, but Nigel tells him, "You were getting tired."
New duo Amber Jackson and Brandon Mitchell take the stage next in a Ray Leeper jazz routine. It was a "sultry and soulful" number that finally allowed Amber to ditch the ballroom heels and sink her feet into a style she is much more acquainted with. Christina thoroughly enjoys the performance, telling Amber, "It's the best I've seen you dance," and praising Brandon for excelling outside of his dance genre.
Janelle Issis and Dareian Kujawa continue to struggle through the competition with a Pasha Kovalev Latin ballroom routine that leaves the judges feeling underwhelmed. Mary doesn't give out any tickets abroad the Hot Tamale Train, claiming, "There was no real chemistry." Nigel agrees, siting their shotty footwork and Janelle's lackluster sensuality. These two might be in trouble.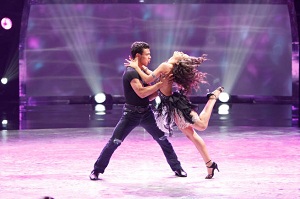 One couple to really keep an eye on is ballroom dancer Lindsay Arnold and martial artist Cole Horibe. This week, they breeze through another routine—a Mandy Moore contemporary number in which Lindsay embodies "love" and Cole emulates "hate." Both receive high praise from the judges, but it's really Cole who is cementing his place in the finale with week after week of impressive and, according to Mary, "versatile" performances.
Another promising pair is contemporary dancers Amelia Lowe and Will Thomas. Here, they perform a Mandy Moore "sharp jazz" routine. While they do not receive the same height of veneration from the judges as they have in past week, there's no denying their chemistry and abilities. Christiana deems them the "dream team" and Mary says, "Will is probably the best partner in the competition…[and] Amelia is phenomenal to watch."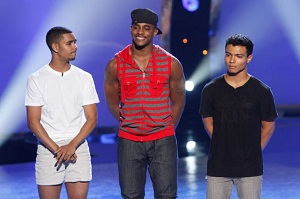 Despite blowing away the judges with strong performances the first two weeks of the competitions, it isn't a good night for Audrey Case and Matthew Kazmierczak. They face their first ballroom hurdle—a Liz Lira salsa routine—and, unfortunately, fall short of the judges' expectations. "It looked really uncomfortable," says Mary disappointedly. There just isn't any sizzle in it.
Chehon Wespi-Tschopp and Witney Carson bounce back after near elimination with aplomb this week in a Stacey Tookey contemporary routine to Whitney Houston's "I Will Always Love You." As ill-fated lovers, they abandon themselves to Stacey's movement, bringing the audience and the judges to their feet. Christina gushes, "[It was] one of the most beautiful things I've ever seen in my life."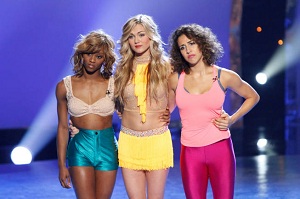 The evening of duos finishes with Eliana Girard and Cyrus Spencer in a crowd-pleasing NappyTabs routine. They are toys come to life; Eliana is a ballerina trying to escape the confines of her jewelry box and Cyrus is a robot. Despite spending a large portion of her life twirling en pointe, Eliana impresses the judges with her ability to get grounded and funky, while Cyrus, as expected, excels in his genre. Mary squeals, "It was fabulous, sick, crazy!"
Once all fourteen have danced, the judges reveal the bottom six: Amber, Lindsay, Eliana, George, Brandon, and Dareian. Unlike last week, the judges are not as assured in their decisions. Nigel asks Amber, Eliana, Brandon, and Dareian to dance for their lives, after we see a strong, masculine guest performance by the men of Alvin Ailey American Dance Theater. In the end, Amber and Brandon are sent home.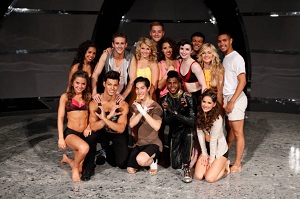 Due to the Olympic Games, it will be another two weeks before we see the Top 14 compete for the hearts and votes of America. Tune in on Wednesday, August 15 for the round of the competition and keep checking back here for the latest in SYTYCD news.