Who will be in the SYTYCD Top 20?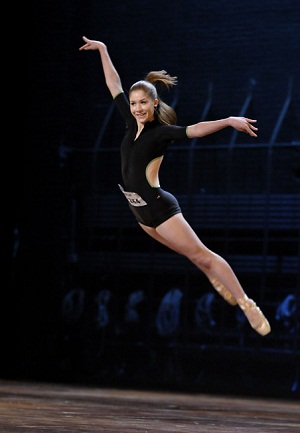 By Stephanie Wolf
This week is the moment of truth for the 35 dancers who survived all eight rounds of Vegas Week, proving they have what it takes to be "America's Favorite Dancer". On Wednesday, each dancer will take the long walk down the 'green mile' to receive his or her SYTYCD fate. Only 20 of them can continue on to the live shows. Who will it be?
SPOILER ALERT!
Warning: the following information contains spoilers about who may end up in Season 9's Top 20 roster. Please discontinue reading if you want to remain in total suspense.
BuddyTV conducted some serious sleuth work via Twitter and came up with a speculative list for Season 9's Top 20 dancers. Each of the dancers came up in a search with the handle name @Dance9[dancer's name]; this mimics the official Twitter feeds of Top 20 dancers in past seasons. The results aren't perfect—it sites 21 names and has too many female picks—but here's what they reported:
The Top Ladies:
Jasmine Mason
Contemporary
Kaitlynn Edgar
Contemporary (didn't get any face time during the auditions or Vegas)
Alexa Anderson
Contemporary
Alexa walked the green mile last season. Hopefully, this time she'll go all the way.
Tiffany Maher
Contemporary (didn't get any face time during the auditions or Vegas)
Amelia Lowe
Contemporary
This 1920s glamor girl brought the judges to tears with her solo in Vegas.
Audrey Case
Contemporary
Whitney Carson
Ballroom
One half of Salt Lake City's hot to trot "Team Ballroom"
Lindsay Arnold
Ballroom
Whitney's other ballroom half
Abigail Ruz
Contemporary
Eliana Girard
Ballet
…and an aerial pole dancer.
Meghan Branch
Contemporary
Janelle Issis
Belly Dancing
Amber Jackson
Contemporary (not featured in audition or Vegas footage)
The Top Men:
Daniel Baker
Ballet
Joshua Alexander
Contemporary
George Lawrence II
Contemporary
Will Thomas
Contemporary/Jazz (not featured in the auditions or Vegas week)
Danny Kermidas
Chehon Wespi-Tschopp
Ballet
Cole Horibe
Contemporary with a Martial Arts edge
Cyrus 'Glitch' Spencer
Hip Hop
Despite no formal training, this endearing young gent proved himself in Vegas Week.
It looks like it's going to be another contemporary heavy year, sprinkled with some ballroom, ballet (which is represented more than it's ever been on the show) hip hop, and, potentially, the show's first belly dancer to ever make it to the live shows.
Additionally, Zap2It reports New Girl star Zoey Deschanel as the first guest judge of the season. FOX confirmed Deschanel's presence on this week's panel, helping deliver the news to the 35 anxious dancers.
Tune in on Wednesday 8pm EST to find out if our predictions are 'en pointe.'
Sources: BuddyTV, Twitter, Zap2It
Photo: A contestant shows off her moves at the New York City auditions for the Season Nine premiere of SO YOU THINK YOU CAN DANCE. ©2012 Fox Broadcasting Co. CR: Jeff Neira/FOX