YPAD fundraises to keep consultants free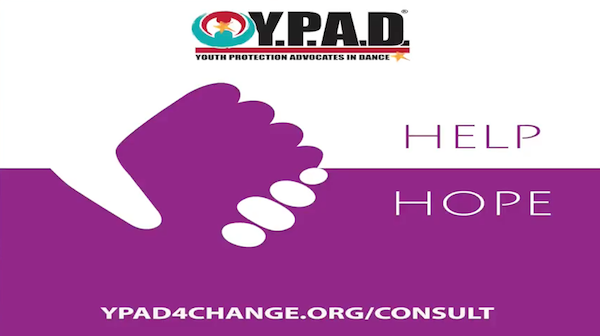 Youth Protection Advocates in Dance (YPAD) has announced a call to action to support its YPAD Community Care Fund.
YPAD Co-Director Joseph Zanovitch said, "With the YPAD community growing so fast and people becoming more aware of the support we offer, we are in need of funds to continue the YPAD Consultant Group. These are free-to-the-community consultations with doctors, therapists or specialists covering emotional, physical and sexual safety, including assistance with sex-abuse reporting."
According to the YPAD Consultant Group description on the YPAD website, the service provides "free consultation for educators, studio owners, parents and youth (with parental permission) with our specialists in the fields of nutrition, sports medicine, physical therapy, special needs, sensory sensitivities, LGBTQI+, eating disorders, body image issues, anxiety, depression, self-harm, mental illness, bullying online or in person, sexualization, objectification, internet safety, trauma, grief, conflict management, suicidal ideation, abuse (physical, sexual and verbal), perfectionism and more."
"If something is weighing heavy on your heart and you need a trusted specialist to listen and assist you in finding resolutions and peace, please reach out," states the YPAD Consultant Group description.
YPAD Founder and Co-Director Leslie Scott explains in the short video below the need for the YPAD Community Care Fund and how to donate. Last year YPAD paid over $10,000 for free consultations to the dance community. It's not even halfway through the year and YPAD has already almost reached that.
"This service has helped so many studio owners, teachers, parents, adult dancers and children navigate difficult situations in multiple ways. We want to keep it going so we created the YPAD Community Care Fund!" Zanovitch said.
Zanovitch stressed that any size financial gift is appreciated and will be put to use in a valuable way. Head to www.ypad4change.org/donate to give now.
Scott and Zanovitch are also in the midst of leading and funding the new Youth Protection Advocates in Gymnastics (YPAG) Consultant Group for that community.
---