Revolution Talent Competition BACK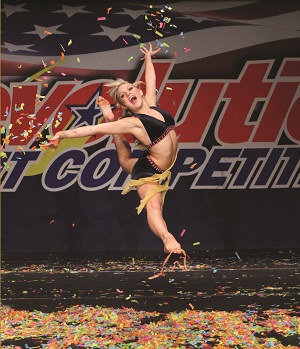 Revolution Talent Competition was established in 2008.
Our goal is to provide an affordable dance event that prides itself on customer service and excellence.
We offer 3 different levels with a separate scoring scale for each level.
Over the last decade, we have become one of the fastest growing dance events in the industry today.
For the 12th anniversary season, we are visiting over 60 regional cities. The tour will culminate into 3 amazing National Championships. We are very excited to be visiting some new markets such as Lafayette, LA, Carson City, NV, Dayton, OH and Toronto, Canada this season.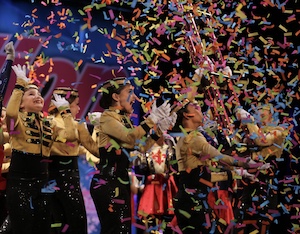 Our judges have a variety of expertise in all areas of dance, with backgrounds as varied as Broadway, commercial dance, dance studio owners, and industrial professionals.
Dates and Venues
Week #1 - Jan 25-27
Lafayette, LA
Week #2 - Feb 1-3
Indianapolis, IN
Week #3 - Feb 8-10
Springdale, AR
Week #4 - Feb 16-17
Sparta, NJ
Week #5 - Feb 22-24
Des Moines, IA
Chicago, IL
St. Louis, MO
Week #6 - Mar 1-3
Pittsburgh, PA
Carson City/Reno, NV
San Antonio, TX
Long Island, NY
Detroit, MI
Madison, WI
Week #7 - Mar 8-10
Biloxi, MS
Wichita, KS
Riverside, CA
Las Vegas, NV
Week #8 - Mar 15-17
Worcester, MA
Colorado Springs, CO
Baltimore, MD
Lancaster, PA
Columbus, OH
Week #9 - Mar 22-24
Charlotte, NC
Asbury Park, NJ
Upland, CA
Kansas, MO
Orlando, FL
Buffalo, NY
Week #10 - Mar 29-31
Omaha, NE
Oklahoma City, OK
East Brunswick, NJ
Week #11 - Apr 5-7
Greensboro, NC
West Memphis, NC
San Jose, CA
Jacksonville, FL
Dayton, OH
Week #12 - Apr 12-14
Fresno, CA
Atlanta, GA
Chicago, IL
Woodbridge, VA
Week #13 - Apr 26-28
Chattanoga, TN
Sewell, NJ
Denver, CO
Waterbury, CT
Spokane, WA
Akron, OH
Week #14 - May 3-5
Nashville, TN
Houston, TX
Long Island, NY
Ft. Wayne, IN
Tulsa, OK
Week #15 - May 10-12
Dallas, TX
Ft. Lauderdale, FL
Hot Springs, AR
Spartanburg, SC
Portland, OR
Week #16 - May 17-19
Detroit, MI
Minneapolis, MN
Springfield, MA
San Mateo, CA
Toronto, ON
Week #17 - May 31-June 2
Downey, CA
Nationals
Pensacola, FL - June 23-28
Anaheim, CA July 3-7
Dallas, TX July 10-14
Contact
Phone 833.RTC.5678
PO Box 234
Crownsville, MD 21032
RevolutionTalent.com