DANCE SUPPLIERS - Cosmetics
Don't see your listing? Add it now…
Glam'r Gear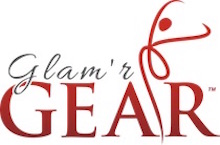 Supplier Types: Cosmetics, Dancewear, Accessories & Gifts, Costumes, Travel
Brand: Glam'r Gear ™, uHide®
Products: Glam'r Gear™ Bags, Hangers, Garment Bags, Hanging Mirrors, Cosmetic/Accessory Pouches, Folding Stools, Aromatherapy Fashion Accessories.
Comments: While we were experiencing our first dance competition season with our little one, we realized that we needed a bag that: 1) Allows for a privacy curtain (with uHide® system), 2) US Patent-Protected, 3) Has loads of shimmer/sparkle, 4) Has a bright lining, 5) Maneuvers on 4-spinning wheels, 6) Can be set up fast and easily, 7) Adjusts for different heights, 8) Has a sturdy rack, 9) and can be zipped up while the hanging rack is in use. We were not able to find one that fully met our needs, so we decided to design a new bag, called Changing Station™ by Glam'r Gear™! It not only has a hanging rack that functions as a wardrobe, and all the functions above, but also has MORE! "Solo" carry-on, backpacks, garment bags, and many other accessories available!
State: Missouri
Location: Raymore, Missouri, USA.
Contact:
w) www.glamrgear.com
e) glamrgear@gmail.com
Mode Dion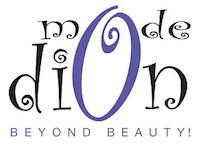 Supplier Types: Accessories & Gifts, Cosmetics
Products: Professional Dancers Kit, Pro Makeup Artist Brush Kit with Satin Bag, Flawless Skin Oil-Free Foundation, Concealer and Translucent Powder with Foundation Brush, Glitter Glitz Kit, Professional Performers Makeup Workshop
Comments: Mode Dion Cosmetics & Training was created 30 years ago by Christine Dion, a National Makeup Artist, Speaker, Columnist and Author well known in the Dance Industry. Mode Dion Cosmetics Collection is custom designed for the special needs of performers both on stage and on camera. Mode Dion Cosmetics are featured on all of Christine Dion's models/Starlets in her publications, workshops, monthly newsletter, youtube channel, in her book "High Performance Beauty" and her numerous beauty columns, including her column in Dance Informa. Youtube Channel: "Mode Dion's Make-up University".
Location: PO Box 1123 Palm Desert, CA 92261
Contact:
p) (760) 837 9433
w) www.modedion.com
SeneGence International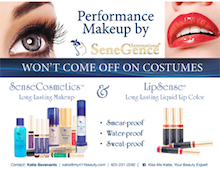 Supplier Types: Cosmetics
Products: LipSense Collection: Lip color, Moisturizing Gloss and Ooops Remover, MakeSense Foundation
Comments: SeneGence Performance Makeup - If you want your makeup to last through a long day of performances without smudging off on costumes and you don't want to spend time reapplying – then SeneGence is your choice for makeup. Long-lasting cosmetics and anti-aging skin care products that really work, using the most advanced technologies to make skin more beautiful. All cosmetics are made in the USA and formulate WITHOUT animal testing. Our cosmetics are gluten-free including a patented long-lasting lip color, available in over 60 shades including a variety of reds, that can be matched to any look or costume. From Foundations, EyeShadows, Blush and Lip colors, SeneGence products are a favorite of performers and celebrities and every purchase comes with a 100% money-back guarantee. Wholesale opportunities available on request.
Contact:
w) www.mybeauty411.com
e) katie@mybeauty411.com
BlisterZone
Supplier Types: Cosmetics
Comments: BlisterZone was created to help prevent friction related skin irritations or blisters. Formulated to be resist perspiration and water, BlisterZone offers a unique solution to help protect hands, feet and other parts of the body from painful blisters. It offers a great addition to any new footwear purchase during the break in phase. It also keeps protecting feet and hands throughout daily activity or athletic workouts. BlisterZone works great on heels, dress shoes, formal shoes and athletic shoes.
Location: Kansas
Contact:
p) 866-633-9663
w) www.medzonecorp.com
e) info@medzonecorp.com
Demetria's Dancewear and Costumes, LLC
Supplier Types: Dancewear, Footwear, Costumes, Accessories & Gifts, Cosmetics
State: Illinois
Location: Belleville, Illinois
Contact:
p) 618-235-6032
Dress 2 Dance
Supplier Types: Dancewear, Footwear, Costumes, Accessories & Gifts, Cosmetics
State: New Hampshire
Location: 223 North Broadway Salem, NH 03079
Contact:
p) 603-898-5054
e) dress.2dance@yahoo.com
Pretty Girl Cosmetics
Supplier Types: Cosmetics
Comments: Pretty Girl Cosmetics offers performance makeup ranging from dramatic to natural and every variety in between. Each team has their own unique ideas on how to wear their makeup for performance season. Makeup and hair completes the stage appearance and draws the audience in to the costume details.
State: New York
Location: Buffalo, NY.
Contact:
p) 716-803-3442
w) www.prettygirlcosmetics.com
e) info@prettygirlcosmetics.com
Skin Bleaching - Skintrium
Supplier Types: Cosmetics
State: New York
Location: 163 Voice Road, Carle Place, New York 11514, United States
Contact:
e) info@skintrium.com
Don't see your listing? Add it now…