CURTAIN CALL BACK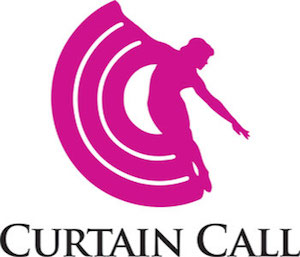 Do you remember the first time you stepped on stage, that very first dance costume you wore, all glitter and tulle, shining in the lights? How you felt amazing, like the light itself was coming from you—and you could have just danced forever.
That feeling, that moment, is exactly why we do what we do. We're a company that truly believes your performance is our passion. In fact, your performance inspires us just as much as you're inspired by our costumes. From our base in York, Pennsylvania, our team stitches a lot of pride into each and every Curtain Call® costume, handcrafting every design, ruffle and detail so that you and your dancers dazzle on stage.
Curtain Call has been part of some of the most well-known events such as Macy's Thanksgiving Day Parade, The Super Bowl, numerous New Year's Day half-time shows and the talented Kilgore College Rangerettes. Our passion goes beyond each costume we create; service and customer satisfaction is something we take very seriously at Curtain Call. Our Relationship Manager team is strategically placed throughout the country. All former dancers themselves, they work closely with you at your studio to find out what you need and support your vision.
We are committed to delivering innovation, excellence and integrity to you, in all that we do. Our craftsmanship is all about supporting the art of dance, to help dancers showcase their hard work and to make sure they feel confident, strong and beautiful. We love being a part of your performance, and as the audience applauds, in a way, we're there too, cheering you on.
Curtain Call is proud to be recognized as the first Youth Protection Advocates in Dance (YPAD) Certified Costume Company! By becoming YPAD certified, Curtain Call leads the dance costume industry by incorporating diversity, inclusiveness and safety in how costumes are designed, photographed and promoted. We are honored to build empowered dance communities to keep youth happy, healthy and safe in dance with YPAD.


Costume Examples: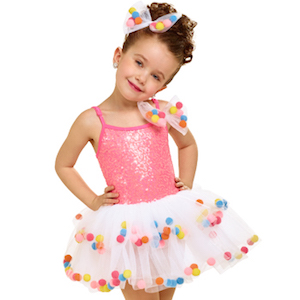 Bubble Gum Pop
CT-E2005
Front lined pink lemonade sequin poly/spandex and white nylon/spandex adjustable straps leotard with pom-pom filled layered tulle skirt. Pom-pom filled tulle bow barrette is included as well as attached adjustable straps. Featuring glitter free fabric which provides all of the sparkle with no mess!
www.curtaincallcostumes.com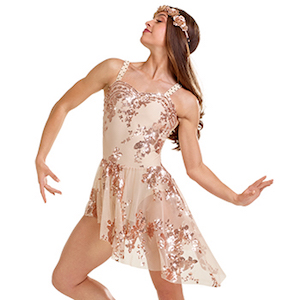 Free Spirit
CT-R497
Ivory poly/spandex leotard with sequin embroidered mesh front bodice overlay, rhinestone embellishment on front and back of bodice and straps and attached sequin embroidered skirt. Sequin embroidered headdress on clip is included. Featuring glitter free fabric which provides all of the sparkle with no mess!
www.curtaincallcostumes.com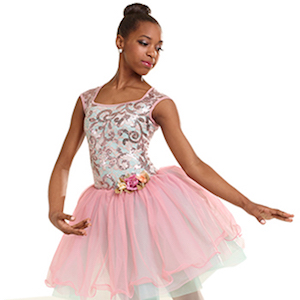 Delicate Rose
CT-C382
Mint nylon/spandex leotard with pink sequin embroidered sheer front and side bodice overlay, sequin embroidered shoulder treatment, attached tricot skirt and flower trim at back waist. Rhinestone barrette is included. Featuring glitter free fabric which provides all of the sparkle with no mess!
www.curtaincallcostumes.com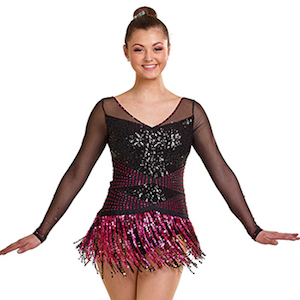 Opening Night
CT-J5258
Front bodice lined black sequin poly/spandex, mesh and poly/spandex leotard with rhinestone embellishment and sequin fringe trim. Black and crystal hair clip is included. Featuring glitter free fabric which provides all of the sparkle with no mess!
www.curtaincallcostumes.com
Contact
Curtain Call
333 East Seventh Avenue
York, PA 17404
1-888-808-0801 (Phone)
1-800-839-1039 (Fax)
curtaincall@performgroupllc.com
www.curtaincallcostumes.com