Hubbard Street collaborates with Peter Chu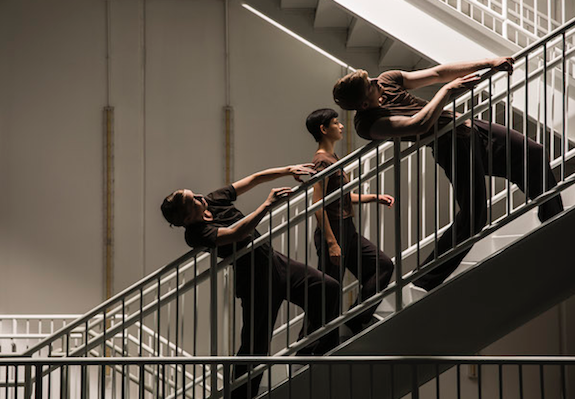 Hubbard Street Dance Chicago (HSDC) will present its fall program, Space, In Perspective (working title), for seven performances at the Harris Theater on September 21 – 24. Featuring the 16 company members as well as 16 dancers in the Hubbard Street Professional Program (HS Pro), the work will be choreographed by guest choreographer and creative director Peter Chu (FOX TV's So You Think Can Dance and artistic director of chuthis). He has been working with HSDC Artistic Director Glenn Edgerton and has been incorporating dancer-generated choreography.
The score for Chu's premiere is by Djeff Houle, musical director for Criss Angel's MINDFREAK Live!. The hour-long program will be performed in untraditional performances spaces, ensuring that it will be an immersive, interactive experience for the maximum audience of 400, who will be broken into several smaller groups. Spaces include the Harris Theater lobbies, backstage and theater loading dock, culminating with all dancers and audience members convening on stage.
"As we embark upon our 40th anniversary season, we are looking to create a new audience experience of contemporary dance that is bold, adventurous and forward-thinking," said Edgerton. "With this piece, the audience can observe our dancers freed from the confines of the proscenium theater setting, from various angles and in a more intimate environment allowing them to interact more personally with the company, seeing them as they have never seen them before."
"We will be riding many waves during this creative process," added Chu. "It's going to be an adventure, for sure! Connecting both installation dance art and media art, the audience and artists will traverse a reimagined performance area through space factors that touch upon the 'rarely admitted changes' we experience when our perspectives shift. It will be a sophisticated yet playful journey that evokes the viewers' spatial perception while encouraging them to explore different space concepts and their internal expressions. The viewers are also invited to actively participate in the sharing and making aspects of this installation evening."
The creative team for Space, In Perspective includes Marcus Doshi (lighting), Sven Ortel (projections), Hogan McLaughlin (costumes) and Djeff Houle (music).
The performance schedule for Space, In Perspective is as follows: Thursday, Sept. 21 at 7:30 p.m.; Friday, Sept. 22 at 7 and 9 p.m.; Saturday, Sept. 23 at 7 and 9 p.m.; Sunday, Sept. 24 at 2 and 5 p.m.
Single tickets are priced at $65 and can be obtained online at hubbardstreetdance.com or by phone at 312-635-3799. Discounted rates and add-on experiences are available for groups of 10 or more patrons. Tickets can also be obtained at the Harris Theater box office.
Photo: Hubbard Street dancers Kellie Epperheimer, Adrienne Lipson and Elliot Hammans in Peter Chu's Space, In Perspective. Photo by Todd Rosenberg.
---