Ian Eastwood drops Valentine's Day video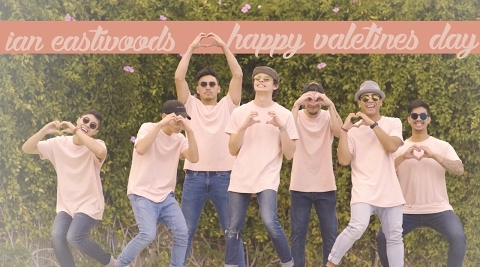 Dancer and choreographer Ian Eastwood has released a new video in honor of Valentine's Day. It features him and the Young Lions grooving to "Happy Valentine's Day" by Outkast.
Eastwood posted on social media: "happy new year! (a month and a half late). had an absolutely crazy first month of the year. and coming off of a couple fun projects me and the boys had a lot of creative energy ready to release. we made this video from scratch (not one single move pre-choreographed) in two rehearsals and one morning worth of finding a location."
Eastwood, known for being a member of the dance group Mos Wanted Crew, has also worked with the Millennium Dance Center, Movement Lifestyle and Coastal Dance Rage. He's on faculty with The PULSE On Tour, directed by President Pam Chancey. Eastwood gave a shout out to Chancey for providing the dancers the space to shoot the video.
"We made this video with only a few hundred dollars and me spending a load of personal time learning these different skill sets, like editing, directing and coloring, so that we don't have to wait on people to make this happen for us," Eastwood wrote. "you can just do it. we love what we do and i hope you can see that."
He said he "always wanted to do this track" since he bought the album when he was a kid. Even though he never thought he "could do it justice" he finally gave it a shot. Watch it below.
Image: Still from the YouTube video, featuring the dancers Ian Eastwood, Hugh Aparente, Bong Buno, Anthony Westlake, Chase Lihilihi, Sean Lew and Jordan Viscomi. Photo by Gerald Nonato.
---