KSU offers 2017 Summer Dance Intensive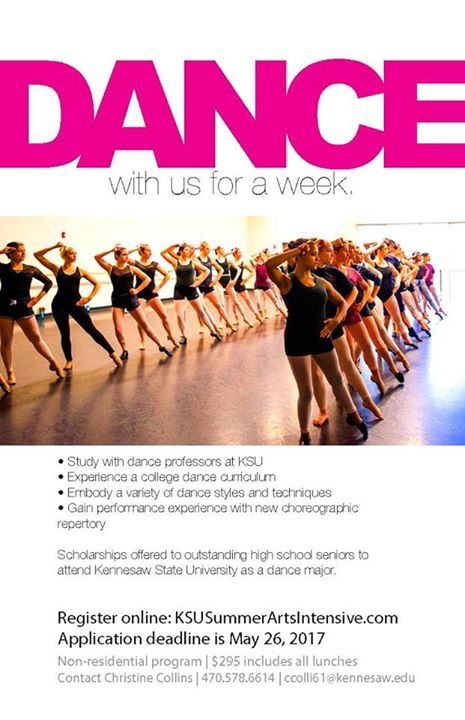 The Kennesaw State University (KSU) College of the Arts will present numerous Summer Arts Intensives in 2017. These one-week, non-residential programs are perfect for young artists living in the Atlanta area who are serious about honing their craft and learning more about what it is like to pursue college-level work in the arts.
The 2017 KSU Summer Dance Intensive will be offered June 5-9. High school students who want the opportunity to experience technical and artistic growth in an environment that fosters creativity and learning are welcome to apply.
Students will study with dance professors at KSU, and experience a variety of dance technique and theoretical courses that are an integral part of dance education at this university.
Specifically, participants will take classes in modern, ballet, African and jazz technique, as well as complete theory classes in dance history and kinesiology. Faculty will set repertory on them, which they'll perform in a concert at the end of the intensive.
Note that the Department of Dance at KSU does offer incentive scholarships every year to outstanding students who attend the intensive.
The intensive is open to rising 9th – 12th grade students, as well as rising college freshmen. It costs $295 and includes lunch Monday-Friday. The deadline to apply is May 26.
For more information, visit http://arts.kennesaw.edu/summer-arts-intensives.php or call Christine Collins at 470-578-6614.
---