Richard Calmes launches new website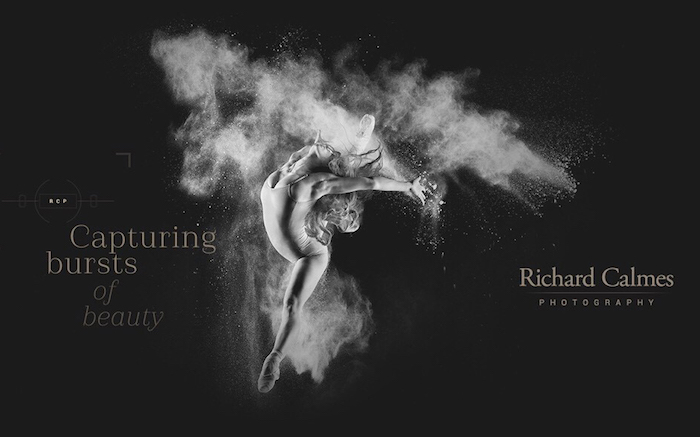 Internationally renowned dance photographer Richard Calmes has launched a new website that offers a fresh, updated presentation of his photography. The new site was created by Wiretree Inc., a web design company that has won numerous awards for its work. Peruse the website now at www.richardcalmes.com.
Calmes has been focusing his camera on dancers of all types since 2005 when he took a publicity still as a favor for a regional pre-professional company. The result of this experience blossomed immediately into an all-absorbing passion, resulting in images that resonate with and bring joy to all who love dance, the human body, and how these two combine in heart-stopping ways.
Over the past 12 years, Calmes' work has graced the covers of over 30 national and international dance publications including media in Russia, Poland and China. His images have been published on Dance Informa countless times. He has enjoyed a solo exhibition by invitation at the National Museum of Dance in New York. He has completed projects for Alvin Ailey American Dance Theater, Paul Taylor Dance Company and the University of North Carolina School of the Arts' School of Dance under Ethan Stiefel's artistic direction.
Calmes has also been the official photographer for Regional Dance America's National Conventions in Pittsburg and Phoenix. He continues to photograph the Southeastern Regional Ballet Association and the Southwestern Regional Ballet Association.
Although he is well known for his prowess in studio photography situations, Calmes has also been the official photographer for 82 different performances by various companies throughout the United States.
The new website offers a fresh view of his visual influence on the world of dance and on his work itself. It is compatible with all methods of viewing, including on computers, cell phones, laptops, I-pads and more.
Calmes welcomes all who appreciate the beauty and athleticism of dance to enjoy his new site.
He stated, "Please visit www.richardcalmes.com and click on the dancing down arrows to experience my world of dance."
---