19th annual Fire Island Dance Festival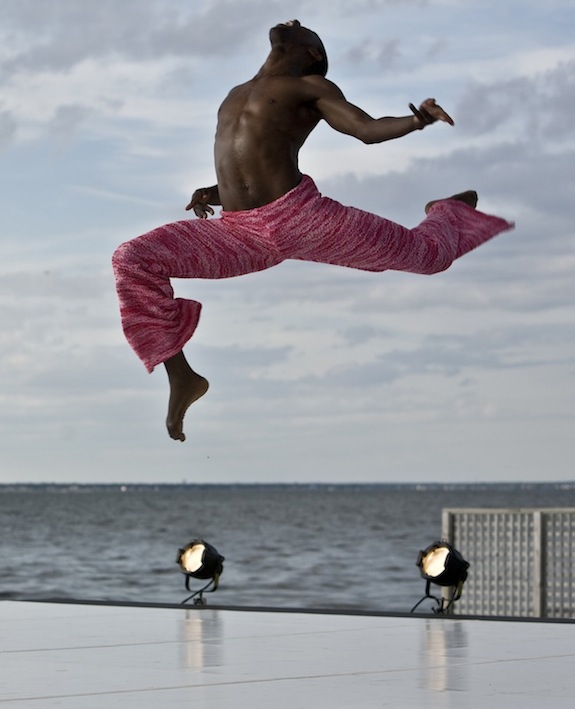 The Fire Island Dance Festival returns this year featuring more than 40 dancers from world-class dance companies in a varied program spanning Broadway to ballet. The festival, recognized as the most anticipated event of the season on Fire Island, returns July 20-21 to its outdoor, landmark bay-front home in New York.
The festival benefits Dancers Responding to AIDS, a program of Broadway Cares/Equity Fights AIDS. It will present three performances: the opening performance on Saturday, July 20 at 5 p.m. (open bar starting at 4 p.m.); Leadership Sunset Performance on Saturday, July 20 at 7 p.m. (open bar following); and closing performance on Sunday, July 21 at 5 p.m. (open bar following). All shows are performed outdoors against the dazzling backdrop of the Great South Bay, located midway between New York City and the Hamptons.
Wildly entertaining humorist and actor Mo Rocca will return this year for a second turn as host of Fire Island Dance Festival. As host, Rocca will once again bring to Fire Island Pines his off-beat and satirical commentary, which can regularly be seen on CBS Sunday Morning and Cooking Channel's My Grandmother's Ravioli.
"The energy at the festival is simply fantastic," Rocca said. "It's so much fun because there's such a unified feeling in the crowd. It's wonderful. I could have hosted last year's program again and again just to see those dances over and over."
This year's Fire Island Dance Festival will include performances by: Alvin Ailey American Dance Theater, displaying an explosive confrontation of wits and prowess in Robert Battle's Strange Humors; BODYTRAFFIC, performing o2Joy, an expression of sheer joy set to great American jazz music that is peppered with syncopated hip-hop and drenched in light-hearted humor; The Broadway Dance Lab, celebrating the repeal of the U.S. military's "Don't Ask, Don't Tell" policy in a music theatre piece set to The Anvil Chorus; Evidence, A Dance Company, honoring the life and memory of dancer Beth Young in a heartfelt, joyous excerpt from Torch; Robert Fairchild and Tiler Peck, principal dancers at New York City Ballet, presenting A Place For Us, a playfully romantic duet by internationally acclaimed choreographer Christopher Wheeldon; Kyle Abraham/Abraham.In.Motion, hailed by Out Magazine as the "best and brightest creative talent to emerge in New York City in the age of Obama," premiering a fast-paced group piece set to "Beautiful Mechanical" by yMusic; Lar Lubovitch Dance Company, presenting the most famous male duet in the international dance world, Concerto Six-Twenty Two; Pontus Lidberg, one of the great choreographic talents of Sweden, premiering a contemporary ballet piece featuring New York City Ballet principal dancer Adrian Danchig-Waring; Jeremy McQueen, displaying his meticulous, kinetic choreography in a world premiere set to Macklemore & Ryan Lewis' No. 1 single "Can't Hold Us"; and Paul Taylor Dance Company, depicting the 1960's appetite for love and drugs in a solo from A Field of Grass performed by Robert Kleinendorst.
In addition, Keigwin + Company, an electrifying contemporary dance company that embodies a theatrical sensibility of wit, style and heart, will present a special performance on Friday, July 19 as part of an exclusive festival kick-off event reserved for Leadership Supporters.
For more information on the 19th annual Fire Island Dance Festival, visit www.dradance.org. Tickets are available online or by phone at 212.840.0770, ext. 268. Tickets also are available in person on weekends in the Fire Island Pines Harbor from 10 a.m. – 1 p.m. Leadership tickets start at $325 and individual tickets for the 5 p.m. performances are $125, including access to the open bar.
Photo: Fire Island Dance Festival presents Robert Battle's Strange Humors. Photo by Rosalie O'Connor.