2014 Vail International Dance Festival begins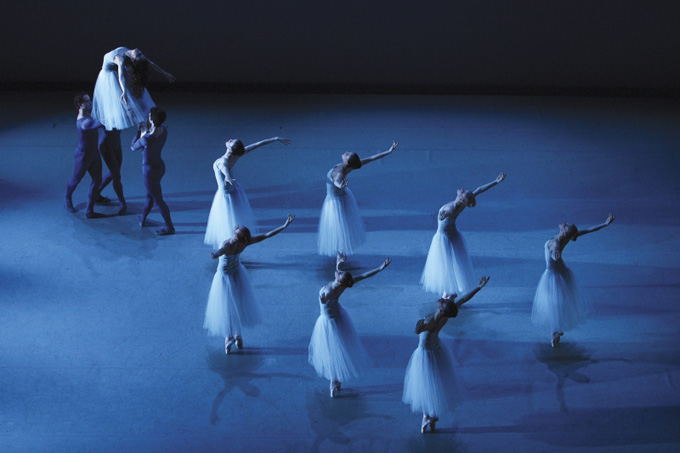 The 2014 Vail International Dance Festival will open on Sunday, July 27 with a star filled evening previewing artists and companies to be featured in the 26th season.
This opening-night performance will feature performances by BalletX, Pacific Northwest Ballet's Carla Kӧrbes, Memphis Jooker Charles "Lil Buck" Riley, Argentine tango dancers Gabriel Missé and Analía Centurión, and New York City Ballet's Lauren Lovette, Robert Fairchild and Daniel Ulbricht.
It will close with Pennsylvania Ballet performing George Balanchine's Rubies, with Festival Artist-in-Residence Herman Cornejo (of American Ballet Theatre) and NYCB's Tiler Peck making their debuts in the principal roles.
The festival will continue on Monday, July 28 with a Balanchine Celebration by Pennsylvania Ballet, currently celebrating its 50th anniversary. The program will include Balanchine's Serenade, with music by Peter Ilyich Tchaikovsky, and the Vail premiere of his Stravinsky Violin Concerto, with music by Igor Stravinsky. This performance will feature guest artist Robert Fairchild of NYCB.
Another fantastic performance will be presented by Pennsylvania Ballet on Wednesday, July 30, featuring special guests Carla Körbes, Tiler Peck, Robert Fairchild and Herman Cornejo. Hosted by Festival Director Damian Woetzel, this fundraiser performance will again focus on George Balanchine, specifically his masterpiece Jewels. This full-length, plot-less work unravels in three acts entitled Emeralds, Rubies and Diamonds with music by Faure, Stravinsky and Tchaikovsky.
Two of the festival's most popular events will be on Friday and Saturday, August 1 and 2 – the International Evenings of Dance. This year's line-up once again presents a magnificent cast of stellar artists from across the dance spectrum, including the luminous prima ballerina Alessandra Ferri, the former Martha Graham Dance Company principal Fang-Yi Sheu, Indian Kuchipudi dancer Shantala Shivalingappa, Brian Brooks of Brian Brooks Moving Company, Boston Ballet dancers Misa Kuranaga and Jeffrey Cirio, and Beatriz Stix-Brunell, Lauren Cuthbertson and Matthew Golding of The Royal Ballet. Plus, stars of ABT, NYCB and various other companies will be featured.
Yet, one of the most exciting festival evenings is NOW:Premieres by far. It presents world premieres commissioned by the festival by acclaimed choreographers of all dance styles. This year, on Monday, August 4, attendees can see new works by: Lil Buck + Crew; Fang-Yi Sheu and Shantala Shivalingappa; Brian Brooks for Carla Korbës, Joseph Gordon, Zachary Catazaro and Chase Finlay; and Matthew Neenan for BalletX with Tiler Peck and Robert Fairchild. Live music will be performed by Michael Block, Claire Chase, Cameron Grant, Kathryn Hatmaker, Grace Park and Frank Shaw.
On Tuesday, August 5, the popular sampler performance Dance for $20.14 will be presented. The following evening will be the Vail premiere of Wendy Whelan: Restless Creature, a collection of ballets that pair Whelan in unique pas de deuxs with world-renowned choreographers Kyle Abraham, Joshua Beamish, Brian Brooks and Alejandro Cerrudo. For modern dance aficionados, Martha Graham Dance Company will return to the festival in full to perform a set of various works, including the world premiere of At Summer's Fall by Martha Graham, on Thursday, August 7.
The final performances for the 2014 festival include the hot and flashy Ballroom Spectacular and the bright and fun Dance TV program. For the Ballroom Spectacular set for Friday, August 8, Latin dance sensations Emmanuel Pierre-Antoine and Liana Churilova create a unique made-for-Vail showcase. Ballroom champions from around the world will perform a variety of dances, from the waltz to the rumba, cha-cha, merengue, samba, tango and foxtrot.
Closing the festival on Saturday, August 9, the TV screen comes to life with stars from So You Think You Can Dance, Dancing with the Stars and America's Best Dance Crew. SYTYCD alumni Alex Wong, Sasha Mallory and Fik-Shun will come alongside Lil Buck, Tiler Peck and Robert Fairchild. Anna Trebunskaya and Gleb Savchenko of Dancing with the Stars and Mix'd Elements of America's Best Dance Crew will also be featured.
For more information on the 2014 Vail International Dance Festival, visit www.vvf.org. Many off-stage, free events will be offered as well.
Photo: Pennsylvania Ballet performs George Balanchine's Serenade. Photo by Alexander Iziliaev.