2015 National Dance Week gearing up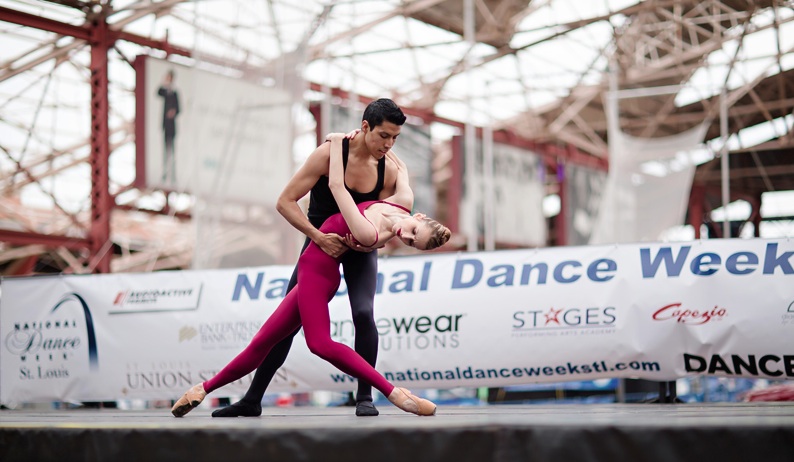 This year's National Dance Week will be Friday, April 24 through Sunday, May 3. The week will host contests, performances and activities for the whole family in locations across the U.S., all to celebrate dance and promote fun fitness.
The National Dance Week Foundation (NDWF) encourages dancers and teachers to get involved! There are already many opportunities for them to join in or to create an event or initiative on their own.
For example, National Dance Week will celebrate its 18th year in St. Louis with a free and festive celebration on Saturday, April 25 at noon at St. Louis Union Station. Dozens of dance companies will take the stage throughout the day, including a guest performance by Compagnie Käfig, a hip-hop company blending various styles and international flavors in its current U.S. tour.
Since April is Chicago Dance Month, there will be several jam-packed weeks of dance on tap leading up to National Dance Week. To kick it off, the Dance Center of Columbia College Chicago will finish its 2014-15 season on April 3-4 with the free hip-hop B-rooted Festival featuring 10-year-old crew Venus Fly. Ananya Dance Theatre will visit Links Hall on April 17-19 in a special presentation titled "Neel: Blutopias of Radical Dreaming." The evening-length work is the product of over a year of research investigating the dreams of women from indigenous cultures and communities of color. Then on May 1 and 2, Peter Carpenter Performance Project will present its 14th installment of Rituals of Abundance for Lean Times, an ongoing series that, in this iteration, brings Carpenter together with The Dance COLEctive for an exciting collaboration.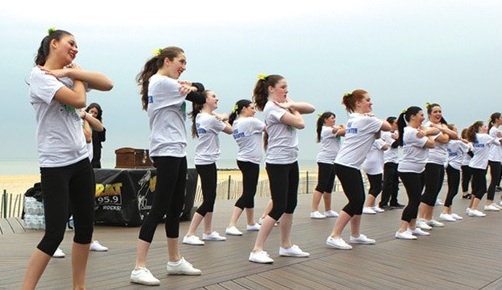 In New Jersey, two great Dance Mobs will have fun, with one at a baseball game in Bridgewater and another hosting a dance on the boardwalk in Belmar to raise money for Hurricane Sandy.
In addition to these happenings, there are other National Dance Week events happening in Arizona, California, Maryland, Minnesota, Nebraska, New York, Oregon, Tennessee, Texas and more.
Plus, NDWF will offer and promote a Dance Mob Contest for the fourth year, which encourages dance studios and independent dancers to stage an NDW-themed flash mob in their cities. The routine, which has been choreographed by Michael Rosales, can be learned online. After the Dance Mob, dancers/studios can submit a video of their performance for a chance to win an award.
NDWF will also host an essay contest and poster contest again this year. The essay contest is for 5th graders to high schoolers. Dancers can write an essay on why dance is important, either from a personal standpoint or a society-at-large standpoint. The entry deadline is April 14 and winners will be chosen during National Dance Week.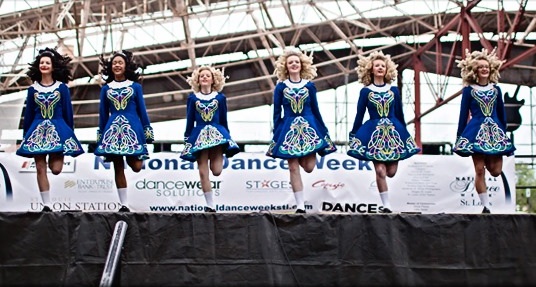 Likewise, the deadline for the poster contest is also April 14. The contest asks dancers to submit their artistic vision for what dance looks like. Applicants can submit their work under one of four categories – elementary, junior high, high school/college and "Facebook." The "Facebook" category allows the poster that receives the most "likes" on the NDWF page to win. A prizewinner will be announced per each category.
For more information on the 2015 National Dance Week, visit www.nationaldanceweek.org.
Photo (top): Dancers performing at the 2014 St. Louis Salute to Dance for National Dance Week. Photo by Jonathan R. White. Photo (left): Dancers perform on the boardwalk in Belmar in 2014 to raise funds for Hurricane Sandy. Photo courtesy of NDWF. Photo (bottom right): Irish step dancers perform in St. Louis. Photo courtesy of NDWF.