2015 Vail International Dance Festival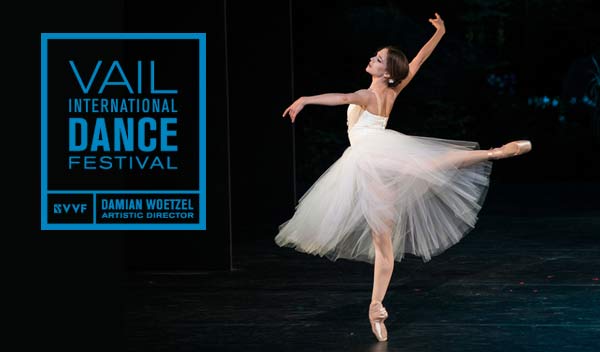 The Vail International Dance Festival has announced its 2015 schedule to be held July 27 through August 10, marking its 27th season with world premieres, exceptional debuts and captivating collaborations.
Located in the pristine alpine community of Vail, Colorado, the festival features many of the world's greatest artists from all genres of dance. Under the direction of former New York City Ballet (NYCB) star Damian Woetzel, the festival's 2015 season includes Artist-in-Residence and retiring Pacific Northwest Ballet (PNB) dancer Carla Körbes, tap dance legend Savion Glover, former NYCB Principal and now independent touring dancer Wendy Whelan, American Ballet Theatre's Isabella Boylston, Misty Copeland and Herman Cornejo, NYCB's Sara Mearns, Tiler Peck, Lauren Lovette, Jared Angle, Chase Finlay, Zachary Catazaro and Joseph Gordon, Alvin Ailey American Dance Theater's Linda Celeste Sims and Antonio Douthit-Boyd, Boston Ballet's Misa Kuranaga and Jeffrey Cirio, PNB's Angelica Generosa, plus Memphis Jookers Lil Buck and Prime Tyme.
Companies appearing at the festival will include National Ballet of Mexico, Dance Heginbotham, BalletCollective, Rashaun Mitchell & Silas Reiner, BalletX and Colorado Ballet. Musicians appearing this season include the acclaimed string quartet Brooklyn Rider, jazz phenomenon Jon Batiste, Galician bagpiper Cristina Pato, pianist Cameron Grant and guitarist Gyan Riley.
"It is primary for me to bring together a dynamic range of dancers and musicians to Vail to share collaborative performances on our stages," Woetzel said.
In a new extension for the festival, a second Artist-in-Residence for 2015 will be illustrator Andrea Selby, who will be in Vail throughout the festival to uniquely chronicle the performances, rehearsals and community events.
The 2015 season highlights include more unique-to-Vail programs than ever before, with a series of mixed bills combining repertory in new arrangements and dancers in new roles and partnerships. Dance House will feature a main performance with artists from the worlds of ballroom, ballet, street dance and the variety of dance on television, followed by special site-specific performances throughout the house of the Gerald R. Ford Amphitheater, all creating an immersive, one-night-only "house of dance" with artists ranging from Chicago "Footworker" King Charles to ballerina Tiler Peck.
Ballet Blast will bring ballet from around the world with a selection of artists and companies, including the National Ballet of Mexico making its Vail debut, and repertory ranging from contemporary choreography to Balanchine masterpieces to classics from the 19th century.
In what has become an awaited yearly performance, NOW: Premieres will feature world premieres by some of today's most dynamic choreographers, including John Heginbotham, Pam Tanowitz, Silas Riener & Rashaun Mitchell, Matthew Neenan and Lil Buck, with dancers from Dance Heginbotham, BalletX, artists from NYCB, and several of the choreographers themselves.
"Presenting new works, new role debuts and new partnerships has become the creative essence of the Vail International Dance Festival," said Woetzel, "and I look forward to what the coming 2015 season will bring."
The festival's Up Close series of rehearsal-style performances continues for 2015, this year focusing on George Balanchine's seminal masterpiece Apollo to the music of Igor Stravinsky. This landmark ballet premiered as Apollon Musagète in 1928 as part of Diaghilev's Ballet Russes season, and over the course of his lifetime, Balanchine made changes to the ballet, adjusting and cutting décor, simplifying costumes, and ultimately eliminating the opening scene depicting Apollo's birth with his 1979 revival. Guided by Woetzel, this Up Close performance will examine the ballet from its original incarnation to what Balanchine last staged before his death in 1983.
Apollo will also be featured on the Balanchine Celebration performance later in the season, which will bring together ballet stars from NYCB and ABT to showcase works by the 20th century's greatest ballet choreographer. This program will feature the debut of Herman Cornejo in Apollo.
The International Evenings of Dance, which have been a cornerstone of the festival for over 25 years, will again feature stars from around the world joining in unique programs surveying the depth and variety of dance, with this year bringing festival debuts from artists including NYCB ballerina Sara Mearns.
The season will also include the festival's first full-length evening ballet, as Philadelphia's contemporary ballet powerhouse BalletX performs the critically-acclaimed Sunset, o639 Hours, based on a true story, with original music by award-winning New Zealand composer Rosie Langabeer.
The festival will close with Dance for $20.15; this annual popularly priced performance will feature a selection of festival stars along with the home state troupe Colorado Ballet, with every seat in the house selling for $20.15.
In addition to its theater-based performances, the festival continues to expand on its numerous in-town, free Dancing in the Streets events, master classes with visiting artists and the Celebrate the Beat dance and music education program free to local children.
For more information on the 2015 season of the Vail International Dance Festival, visit www.vaildance.org.