2017 Martha Hill Awards Gala coming up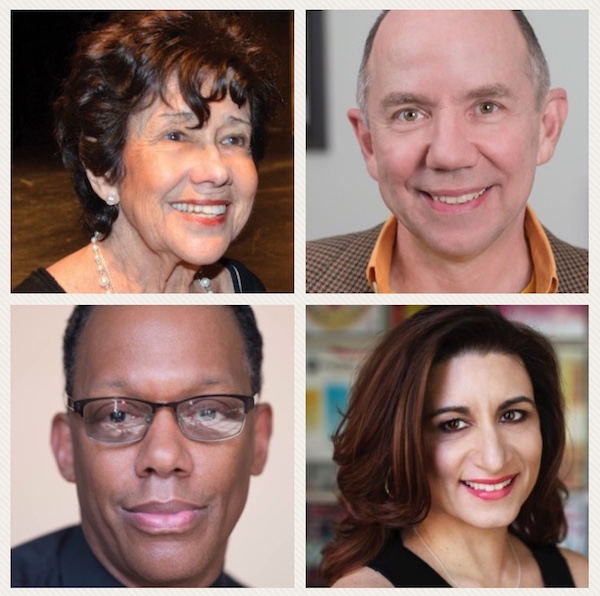 The Martha Hill Dance Fund will soon host its 2017 Martha Hill Awards Gala on Monday, November 20 from 6-10 p.m. at the Manhattan Penthouse in New York City.
This year the Lifetime Achievement Award recipients are dance historian and archivist Norton Owen and dance educator Alice Teirstein. The 2017 Mid-Career Award recipients are choreographer Robert Garland and dance activist Denise Hurlin Roberts.
The Martha Hill Dance Fund continues to perpetuate the legacy of a remarkable woman whose influence in the world of dance and performance knew no bounds.
Martin Wechsler will host the evening, and awards will be presented to Norton Owen by Deborah Jowitt; to Alice Teirstein by Joan Finkelstein; to Robert Garland by Theresa Howard; and to Denise Roberts Hurlin by Jodi Melnick.
Learn more about the award recipients below. For gala reservations and information, call 212-247-2564 or visit www.marthahilldance.org. Gala tickets start at $175.
Norton Owen
Norton Owen is a curator, writer, and archivist with more than 45 years of professional experience in the dance field. He has been associated with Jacob's Pillow Dance Festival since 1976 and has been Director of Preservation since 1990, overseeing the PillowTalks series as well as projects involving documentation, exhibitions, audience engagement, and archival issues. He is the curator of Jacob's Pillow Dance Interactive, an acclaimed online video resource that reaches audiences worldwide, and was Institute Director of the José Limón Dance Foundation for many years. In 2000, Dance/USA selected him for its Ernie Award, honoring "unsung heroes who have led exemplary lives in dance." He has also received awards from the Dance Films Association and the José Limón Dance Foundation, and he is a past chair of the Dance Heritage Coalition as well as President of the O'Donnell-Green Music and Dance Foundation. In recognition of his 40th anniversary at Jacob's Pillow, the Norton Owen Reading Room was dedicated in his honor.
Alice Teirstein
Alice Teirstein has been choreographing, performing, and teaching dance in New York since the early 1970's. She is Founding Director of Young Dancemakers Company, a tuition-free company of NYC teens, now entering its 23rd season, presenting free touring concerts of original student choreography throughout NYC. Teirstein designed and directed the dance curriculum for grades 7-12 at the Fieldston School, where she served on the faculty for over 30 years. She initiated the dance program's Dance Out Project, bringing her students into the city's homeless shelters, leading dance workshops for which she received an award from the City of NY Human Resources Administration. She designed and led the decade-long Fieldston Summer Performing Arts Institute in the 1980's. Teirstein's awards include a 2012 "Bessie" and 2015 Lifetime Achievement Awards from the NY State Dance Education Association and from the American Dance Guild.
Robert Garland
Robert Garland was a member of the Dance Theatre of Harlem (DTH), achieving the rank of Principal Dancer. After creating a work for the DTH School Ensemble, Arthur Mitchell invited Garland to create a work for DTH and appointed him the organization's first Resident Choreographer. He is also the organization's webmaster. In addition to choreographing several ballets for DTH, Garland has also created works for New York City Ballet, The Royal Ballet in Britain, Oakland Ballet and many others. His commercial work has included music videos, commercials and short films, including the children's television show Sesame Street, a Nike commercial featuring New York Yankee Derek Jeter, the NAACP Image Awards, a short film for designer Donna Karan, and the "Charmin Cha-Cha" for Proctor and Gamble. Most recently he created a work honoring jazz legend and Juilliard Alum Wynton Marsalis, featuring ABT ballerina Misty Copeland to Marsalis' music. Garland holds a Bachelor of Fine Arts Degree from The Juilliard School in NYC.
Denise Roberts Hurlin
Denise Roberts Hurlin's career has taken her down several diverse paths after graduating in 1984 with a BFA in Dance from the Conservatory of Dance at Purchase College. As a dancer, she was a founding member of Parsons Dance in 1987 and has set David Parson's work on the Purchase Dance Corps and Netherlands Dans Theater. She performed for six years with the Paul Taylor Dance Company, where she danced the leads in such Taylor classics as Aureole, Big Bertha, Sunset and Company B, and was featured in the PBS/WNET Dance in America special Speaking in Tongues. In 1991, Hurlin and fellow Paul Taylor dancer Hernando Cortez co-founded Dancers Responding to AIDS as a vehicle to help so many of their friends and fellow dancers who had become ill. She remains in her role as founding director, leading the program's efforts to continue providing a safety net for the dance community. Hurlin is also an inaugural member of the advisory council for The Dancers' Resource, a program of The Actors Fund founded by Bebe Neuwirth. She is married to Broadway Cares Production Manager Nathan Hurlin.
---