2019's The Table Of Silence Project, 9/11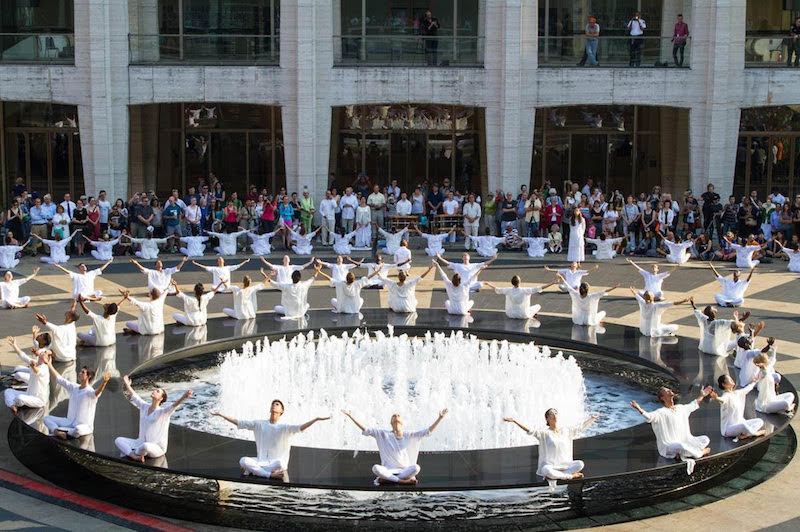 Buglisi Dance Theatre is honored to be welcomed once again at Lincoln Center for the ninth presentation of the performance ritual for peace "The Table of Silence Project 9/11," a public tribute to 9/11 and prayer for peace, conceived and choreographed by Artistic Director Jacqulyn Buglisi. The performance ritual takes place Wednesday September 11, beginning at 8:15 AM and concluding at 8:46 AM, the tragic moment when American Airlines Flight 11 crashed into the North Tower.
Collaborator Italian visual artist Rossella Vasta's acclaimed "Table of Silence" sculpture inspired Buglisi's metaphoric use of the plate, recreated by Vasta for the dancers to embrace in their robes as a poetic expression of a banquet table uniting humanity. Buglisi Dance Theatre also acknowledges Leonardo da Vinci's "Last Supper" and Constantin Brancusi's "Table of Silence" (1938).
Famed dramatic dancer Terese Capucilli, a longtime collaborator with Buglisi since their time as principal dancers with the Martha Graham Dance Company, leads the performance as the Bellmaster. Capucilli has performed in "The Table of Silence Project 9/11" since its premiere, bringing her powerful, indominable spirit to the work.
In partnership with Dance/NYC, Buglisi Dance Theatre brings together 150+ dancers, selected from major dance companies and professional institutions including Martha Graham Center for Contemporary Dance, Dance Theater of Harlem, Limón Dance Company, The Juilliard School, The Ailey School, and Steps on Broadway, among others. At the sound of the conch, 150+ dancers slowly ascend onto the Josie Robertson Plaza from multiple directions. Moving to the minimal, plaintive strains of the flute, the "heartbeat" of the bass drums, the trumpet, bells and the cries of the chorus, the dancers form three concentric circles around the Revson Fountain, repeating twelve symbolic ritualistic gestures to create an ancient Peace Labyrinth. Filled with the Mandala's transcendent energy, each dancer, swathed in white, embraces a ceramic plate within his/her robe/surplice. Spectators may join in a minute of silence as the dancers extend their arms to the sky at 8:46AM. The recessional begins as the dancers slowly rise and descend from the Plaza.
Approximately 1,400 dancers that represent the diversity of the NYC community, have performed in The Table of Silence Project since the inaugural performance in 2011, on the tenth anniversary of September 11th. They dance in solidarity and peace among nations.
Live stream broadcasts have reached close to one million people in all 50 states and in 129 countries around the world, including Mexico, Argentina, Vietnam, Netherlands, Ukraine, South Africa, New Zealand, Ivory Coast, Israel, Qatar, and a military base in Afghanistan. In addition, thousands of spectators have visited the Josie Robertson Plaza for public rehearsals and performances of The Table of Silence Project 9/11.
Governor Mario Cuomo and Mayor de Blasio have awarded Proclamations to The Table of Silence Project for uniting the community through dance.
For more information go to
Photo by Terri Gold and courtesy of Table Of Silence