24th Rhythm World Festival in Chicago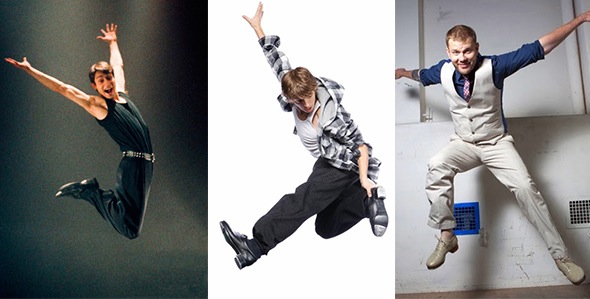 Highlighting the depth and breadth of Chicago, national and international tap artistry, Chicago Human Rhythm Project, the nation's premier presenter of American tap dance and contemporary percussive arts, presents Rhythm World, the oldest and most comprehensive festival of American tap and contemporary percussive arts in the world. This year's festival will be July 7 to August 3 in downtown Chicago, presented in association with the Museum of Contemporary Art.
CHRP's 24th annual festival of performance, education and community outreach programs, directed by CHRP Founder and Director Lane Alexander, features an extraordinary roster of virtuoso performing artists and master teachers. This year's festival will spotlight talent from Europe and Brazil, with performances at the Jazz Showcase and the Edlis Neeson Theater at the Museum of Contemporary Art. The festival will also present a tap jam and a student showcase, and a wide range of residencies, courses, workshops, master classes and conferences for the field at the American Rhythm Center, located in the historic Fine Arts Building. New this year, CHRP Nicholas Young's Institute For The Rhythmic Arts (IFTRA). See more information below.
Performances
The crowning events of Rhythm World are performances by the world's leading percussive dance artists during the final week. The opening night July 28 performance at 8 p.m. features Rhythm World faculty and students performing with jazz musicians at the Jazz Showcase, located at 806 S. Plymouth Court.
JUBA! Masters of Tap and Percussive Dance features a host of extraordinary foot drummers and percussive arts masters on July 30, July 31 and August 2 at 7:30 p.m. in the Edlis Neeson Theater at the MCA, located at 220 E. Chicago Avenue. The programs, accompanied by the Greg Spero Trio, are as follows: Boomerang on July 30 with Guillem Alonso from Barcelona, Daniel Borak from Zurich, Victor Cuno from Paris, Charles Renato from Brazil and more; 1(s), 2(s), 3(s) and 4(s) on July 31 with Jason Janas performing his one-man one-act Pieces of a Man; and New Rhythms on August 2, with performers including Cartier Williams in his new one-act work Rhythm Remix, as well as Jay Fagan, Sarah Savelli, Jumaane Taylor and more.
Tap Scholar Awards
Each year, CHRP awards thousands of dollars in scholarships to deserving, talented teens so they may participate in Rhythm World. This year, 14 students earned tuition support during CHRP's February 2014 Winter Tap JAMboree and at select auditions around the globe (Tokyo, Zurich, Rio, Stuttgart and Toronto).
"These scholarships support CHRP's mission to build community by bringing together students from different backgrounds and places to meet their international peers and study with great and emerging masters," Alexander said.
Founded in 1995 to honor the life of CHRP Co-Founder Kelly Michaels, the Rhythm World Tap Scholar Award program has provided more than $275,000 in financial aid to more than 200 talented, deserving young dancers from Chicago and throughout the United States as well as international exchange students.
Education programs
This year Rhythm World offers a new program, Nicholas Young's Institute For The Rhythmic Arts (IFTRA), which provides up to 25 students (selected by application) with a first-of-its-kind experience for emerging young professionals: a three-week intensive integrating foot, hand and body percussion led by STOMP alumnus and tap dancer extraordinaire Nicholas Young, master percussionists John Angeles and Doug Feig, CHRP Founder and Director Lane Alexander, percussive artist Jumaane Taylor and more.
Intensive residencies
Residencies offer students opportunities to learn from international tap performer Charles Renato from Brazil, tap dancer and body percussionist Nicholas Young, the legendary Dianne "Lady Di" Walker and Broadway performer Derick K. Grant. Intensive residencies are offered July 21-25.
Courses, workshops and master classes
These take place July 28-August 3. The highly respected faculty of master teachers includes special guests from Europe and Brazil as well as many from the U.S. who have taught at the festival throughout its 24-year history.
KIDS Program
The KIDS Program, offered July 28-August 1, offers intermediate tappers ages nine through 12 a curriculum including oral and video histories, tap technique classes, improvisation instruction and individual development of style and expressive ability. A new Adult Program scheduled for July 28-31 offers intermediate-level classes and a seminar each day. After Work Adult Courses take place July 29-31.
Conferences for the field
Now in its 14th year, CHRP's annual Youth Tap Ensemble Conference (YTEC) and PrepTEC, now in its seventh year, take place July 28-August 1. YTEC is one of the most comprehensive programs available to tap ensembles. Students work with masters on technique and improvisation, meet with specialists regarding related disciplines and learn new choreography. PrepTEC offers the same opportunities for study to intermediate-level tappers. More than 90 dancers between the ages of 12 and 19, representing 10 youth tap ensembles from the U.S., Brazil and Canada, will gather to study new choreography, technique, improvisation and theatre-related topics.
To register for the festival, visit chicagotap.org or call 312-542-CHRP (2477).
Photo (from left to right): Guillem Alonso, Daniel Borak (by Andreas Gemperle) and Nicholas Young. Photo courtesy of Rhythm World Festival.