28th Hanover Choreographic Competition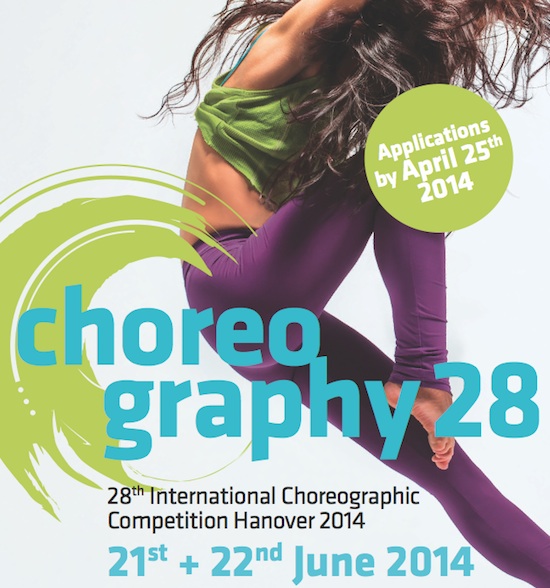 For 28 years the Ballet Society of Hanover, Germany has organized the Hanover International Choreographic Competition. Over the past few years the competition has become an increasingly important event in the national and international dance scene. The 2014 competition will be held June 21 and 22.
The competition guidelines state that all participants, choreographers and dancers ought to have professional training. In addition, choreographers must be 35 years old or younger. The competition, which is open to all dance styles, bases its evaluation on imaginative use of space and time, the realization of an idea, and its transfer onto the performers. The duration of each performance must be between five and 12 minutes. A solo-ballet may not be performed by the choreographer him/herself.
Competition applicants have the chance to win significant monetary prizes. The first three endowed prizes amounts to 13,500 euros. The audience prize amounts to 1,000 euros. The critics prize amounts to 1,500 euros.
Competitors are also eligible to win three production awards. Since 2005, the competition's Artistic Director Ed Wubbe has presented the Scapino Production Award. The award includes the development of a unique choreographic work with dancers from Scapino Ballet and its presentation in the series TWOOLS. Since 2012, the Bundesjugendballett Production Award has been presented to a select choreographer, allowing the recipient to develop a new work with the Bundesjugendballett, a German youth ballet company founded and led by John Neumeier. Finally, for the first time this year, Eric Gauthier will present the Gauthier Dance Production Award.
Choreographers who are interested in submitting their dance work for consideration must submit an application and a DVD to the competition organizers. The DVD should feature the dance work being performed. Applications are due April 25. After that, a jury will select a maximum of 20 choreographic works to enter the contest, culminating in the two-day event in June.
For more information or to access application forms, head to www.ballettgesellschaft.de.