7th National Dance Day on July 30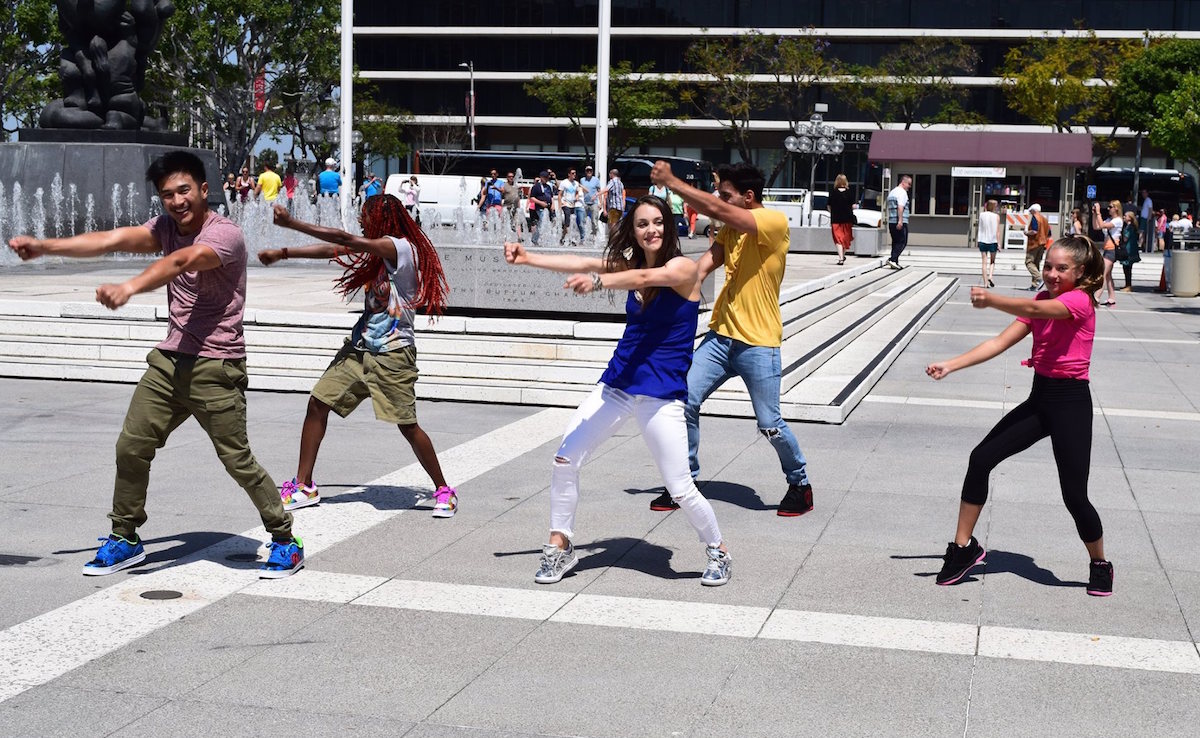 The Dizzy Feet Foundation (DFF) recently announced that the 7th annual National Dance Day will take place on Saturday, July 30, with the main events set to happen in Los Angeles, Washington, D.C. and Orlando. These events will continue the tradition of last year's groundbreaking alliance of some of the nation's leading cultural organizations, which are joining together to promote the benefits and joy of dance for everyone.
In Los Angeles, The Music Center partners with DFF to present the West Coast's flagship celebration of National Dance Day for the fifth year in a row, featuring a free dance extravaganza with both performances and participatory elements. The event will take place in Grand Park downtown from 10 am to 2 pm. Dancers of all skill levels and ages are invited to join So You Think You Can Dance (SYTYCD) Creator Nigel Lythgoe along with cast members from the show, who will lead the crowd in the official National Dance Day routines. The day continues with the opportunity for audiences to experience and engage with some of L.A.'s best dance companies, as well as enjoy dancing in the Grand Park fountain with "Baby Loves Disco." For more information, visit musiccenter.org/ndd.
In Washington, D.C., the John F. Kennedy Center for the Performing Arts partners with DFF for the fourth year in a row, headlining a full day of free festivities right in the heart of the nation's capital. This year, events will take place on the Kennedy Center's outdoor North plaza along the Potomac River and Grand Foyer with performances and dance lessons all afternoon and a free social dance party going into the night with "Dancing Under the Stars." Confirmed talent includes tap dancer and singer song-writer Evan Ruggiero, and local artists from Bowen McCauley Dance, DC Bhangra Crew, the O'Neill-James School of Irish Dancing, Capoeira DC and the Work It! Fitness DIVAS. More information can be found at kennedy-center.org/calendar/event/XQNDD.
Meanwhile, in Orlando, the Dr. Phillips Center for the Performing Arts will begin a new partnership with DFF to bring dance and healthy living opportunities to the public in honor of National Dance Day. The free community dance festivities will take place outside the city's new state-of-the-art venue in downtown Orlando from 8:30-11 am. Non-dancers and dancers alike are invited to join Cyrus "Glitch" Spencer from SYTYCD for participation in the official National Dance Day routine. Additional performances will feature an educational behind-the-scenes experience from Orlando Ballet, as well as students from the Dr. Phillips Center Florida Hospital School of the Arts summer programs. Orlando participants will also have the opportunity to take part in a free dance class from the School of the Arts. (Additional details will be released in the coming weeks.)
As its official contribution to National Dance Day, each year DFF produces and distributes instructional videos featuring dance routines for the public to learn. The Dizzy Feet Foundation encourages anyone and everyone to learn the routines and perform them on National Dance Day. DFF also encourages the public to submit videos of themselves performing the routines.
Those creating their own National Dance Day event can submit their event on a national list for others to search. More information on how to become an official National Dance Day event and submitting National Dance Day videos can be found on DFF's website at dizzyfeetfoundation.org.
New this year, DFF has partnered with footwear company Heelys to "help encourage Americans of all ages to incorporate dance into their lives."
"Heelys is thrilled to partner with Dizzy Feet this year for their annual National Dance Day," stated Liz Mandracchia, VP of Marketing at Heelys. "The Dizzy Feet mission to promote freedom of expression through dance is a natural alignment to the core values of the Heelys brand. Heelys encourages kids and Americans of all ages to explore their freedom and lead active and healthy lifestyles through the benefit of movement."
If you're not close to L.A., D.C. or Orlando on July 30, definitely be sure to check with your local dance studios and companies to see what events are being hosted near you. For example, Ballet Austin, Nashville Ballet, NOLA Dance Network, The Georgia Ballet, Miami City Ballet, Fatcat Ballroom (Phoenix, AZ) and Crested Butte School of Dance (Colorado) are hosting events. There's even events being held in the U.S. Virgin Islands and abroad in Japan!
Photo courtesy of National Dance Day.