A Chance to Dance: Boot Camp Begins!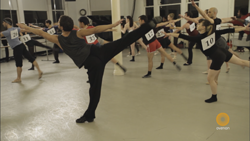 By Stephanie Wolf

In Episode 3 of A Chance to Dance, the 24 selected dancers find themselves in New York City, ready and anxious for "boot camp". Some feel the pressure immediately as they all meet for the first time and everyone sums up his or her competition. Michael Nunn and Billy Trevitt, the BalletBoyz, greet the dancers in front of Yankee Stadium to drop a big surprise on them. They tell the dancers they will not be staying in Manhattan; rather, they get on a bus and escape the distractions of the big city for one of the most historical dance sites in America, Jacob's Pillow.
Many of the dancers realize the significance of dancing at Jacob's Pillow, which still exudes the spirit of America's greatest dance visionaries. Hopefully, they'll try to use that sacredness as a source of inspiration during the long, hard days to come; according to Michael and Billy, this boot camp will not be "just a walk in the park." Let the dancing begin!
Day one of boot camp:
Billy gets the dancers' muscles warm and ready for the first day with a straightforward ballet class. Starting the audition process with ballet gives Billy and Michael a sense for each dancer's lines and technical foundation. For some, like Laura—the eager ballet dancer from Philly—this is comforting news. "I can really show them what I can do," she tells the cameras. But for dancers with less formal training, such as hip-hop/freestyler Shepard and contemporary dancer Chase, starting the week with a ballet class is intimidating. Shepard begins to question everything. "What am I doing here…I'm worlds behind [the technical dancers]," he says with panic in his voice. But Shepard is comforted after Billy approaches him, inspects his facility, and tells the doubtful dancer, "There's something we can work with there." Shepard has passion and an undeniable work ethic. He has the potential to surprise everyone in this competitive environment.
The anxiety is elevated by the sense of segregation amongst the various styles of dancers in the room. Ballet dancers tend to flock to the same barré, while the contemporary dancers stick together. And it doesn't help that the dancers are asked to wear t-shirts with their names on them, constant reminders that this is an audition and twelve dancers will be heading home before the week is over.
The class begins traditionally, but Billy takes them into jumps and turns immediately after barré. This is a debatable decision. While it is understandable that Billy and Michael have a short amount of time to select the twelve dancers for their new company, rushing through a class may not be the safest approach for the dancers' physical wellbeing.
After class, Billy and Michael express concern about the technique of the dancers they've chosen. They both feel many of the dancers lack the foundations of dance technique and Michael fears "they've learned from watching dance on television." What an interesting concept. Is this where American dance is heading, learning technique from shows like So You Think You Can Dance?
Upon arriving at the Pillow, the dancers were given an assignment. Billy asked them to think about a word that best describes him or her. Now, they are asked to improvise with their chosen word as their intent. Some dancers excel in this task. Contemporary dancer Chase, who was in trouble of being eliminated after his lackluster ballet technique, demonstrates a smooth and creative improv that captures Billy and Michael's attention. Others look uncomfortable with the task. "The word exercise taught us a lot about the dancers," Billy and Michael express.
So You Think You Can Dance Season 2 finalist Allison Holker assists the BalletBoyz with "whatever they might need" during their time at the Pillow. On day one, she joins Michael and the ladies for a little lesson of corps de ballet 101. Michael teaches the ladies a synchronized section of the piece, which is filmed and will be used as a projection for the Dizzy Feet Foundation Gala performance. Early on, it's clear that some dancers are not accustomed to working in a close-knit ensemble. "It was a really good way of seeing who should just go home," Allison says. Michael is practically pulling his hair out from frustration during this segment and, at times, appears ready to snap. Marissa and Kelly struggle to stay on their counts and marks, putting both of them in a dangerous position.
Meanwhile, Billy works with the gentlemen on a solo. The macho mentality from many of the male dancers is palpable. Eldon sizes up the competition, evaluating which dancers he needs to keep an eye on. Cooper cracks a little under the pressure, "Billy and Michael scare the crap out of me," he says. "You have to hit it hard and it you have to hit it fast…you have to show them want you can do now." This overzealous need to please causes the compact contemporary dancer to fall hard on his knee during an attempt at a tricky jump. Luckily, he is not badly injured, but it's been a difficult journey for him thus far.
At the end of a trying day, Billy and Michael make dinner for all of the dancers. Their spirits are lifted until they hear the disheartening news; six dancers will go home the following day. With this news, the dancers are reminded quickly why they are in Becket, MA and return to their cabins with this heavy thought in their heads. Only twelve dancers will get to perform at the gala and go on tour with SYTYCD, meaning twelve of them will have their hearts broken.
Tune in next week, when Billy and Michael cut six dancers and push the remaining candidates through rigorous partnering classes and choreography. Which twelve dancers will perform at the Dizzy Feet Foundation Gala?