A Chance to Dance: Episode 4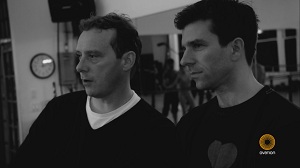 By Stephanie Wolf.
"We're going to have to be ruthless and focus on the [final performance]," Billy says solemnly right before the opening credits of Ovation's fourth episode of its documentary style series A Chance to Dance. During last week's episode, the dancers selected from the cross-country auditions found themselves in Jacob's Pillow, a hotspot of American dance. After only one day of vying for a chance to perform with the BalletBoyz's new company, the dancers learn that six of them will be going home the following day. On day two of boot camp, the dancers must show off their dancing chops with some contemporary choreography and partnering.
It's only sixteen days until the gala performance, so there's not only pressure on the dancers but on Billy and Michael as well. The dancers wake up early, jittery from nerves over the eliminations and head to the studios to begin their day. SYTYCD Season 2 finalist Allison Holker is on hand to teach morning class, allowing Michael and Billy the chance to "have a closer look" at the dancers' technique and potential.
Allison wants each dancer to be shown to his or her maximum capacity, so she approaches each dancer to get a sense of where each individual is mentally. Once so confident, ballet dancer Laura now seems anxious. She worries about the unknown and things out of her control: what are they looking for and is she capable of pulling off the contemporary work that feels so foreign to her body?
The two are looking for more than just "balletic technique". They want to see the dancers grouped in couples, doing some partnering. The new partners try to quickly acquaint themselves with each other, as Billy prepares to teach them a duet. The remaining ladies go with Allison to learn a female trio.
Each dancer talks about his and her boot camp experience thus far, and the perspectives run a gamut of emotions. Cooper doesn't feel the environment is "nurturing" enough for him and continues to struggle with connecting to the BalleyBoyz's movement on day two. Shepard also labors through the second day tasks due to a lack of partnering and formal training. This puts strain on his partnership with Chelsea, causing Michael to question which dancer is the stronger of the two. It hasn't been an easy road for the hip-hop dancer. His confidence is waning.
Meanwhile, Allison takes the remaining girls through some choreography she describes as, "three girls connected at all times, moving across the floor." Laura, who sailed easily through the previous day's ballet class, now feels uncomfortable in the contemporary movement and looks clumsy and unconfident. The uncertainty gets to her and causes her to have a meltdown in front of the cameras and, eventually, in front of Billy and Michael. Michael is sympathetic towards her feelings, encouraging her to "cheer up". However, he stresses the importance of learning how to properly channel her emotions. As he explains later in the episode, they care deeply about the wellbeing of each dancer, but they aren't their parents and there is little time to soothe individual emotional woes and doubts.
More focus is given to the final duet of the piece. "It's what everyone [will] remember…it's the fairytale," Michael explains, which is why it's so important that the right couple is cast. Of the pairings, Joni and Patrick have the best chemistry, demonstrating solid technique and—despite having just met—a strong emotional connection. Other couples don't grab Michael and Billy in the same way. Chase and Marissa receive mostly unenthusiastic feedback after their performance, and Michael can sense Sydney and Cooper's nerves when they dance together. "I want this so bad, but I can just tell it's not fitting on me," Cooper says to the cameras. Chelsea has proven how valuable she can be as a company member. But Michael is openly harsh on Shepard, who is "drowning…in above his head." Shepard is, of course, disheartened by this critique, especially since he receives it in front of all of the dancers.
Ultimately, it hasn't been an easy day for the dancers and, now, they must await the verdict of whether they will be asked to stay or pack their bags and head back home.
The first round of cuts…
Michael and Billy meet with the dancers individually to tell them their fate. Chelsea goes in first. They keep her on due to her "enormous strength of character" and sound technique. She is a gracious individual and dancer. Chase W. enters next and is told this is the end of his time at Jacob's Pillow. Michael and Billy see potential, but their timeline is too short to bring him on board for this particular project. Meghan makes a great impression on the two in this round, as does Bayli, Kelly, Michelle, Daniel, Katlynn—despite forgetting her name—Patrick, Tanisha, and Courtney. Eldon gets emotional over discussing Chase W.'s departure, but Michael and Billy hope he can get over the loss of his partner because they want to keep him. Cooper is forthcoming about his trying time at the Pillow. He is also let go. Michael and Billy stress that he has a lot of potential, but agree he lacks the experience and maturity. Michael and Billy disagree over Sarah's fate. Billy wants to see more and, by a narrow margin, convinces Michael that she can find a balance between her emotions and technique. The news is not as good for Savannah, Marissa, or Jessica, but they take another chance on ballet dancer Chase O. They want to help Laura learn how to move more comfortably outside of ballet class, but remind her to keep her emotions in check. Joni is pleased to hear she is their "favorite of the pack." Shepard is the final dancer to talk with the BalletBoyz. He enters with the philosophy, if it's meant to be it will be. It's a close call, but they keep him and plan to give him a "special task" the following day; this will be his chance to prove why he deserves to be in the company. The end result, only five dancers are cut in the first round of eliminations.
Next time on A Chance to Dance…
Billy and Michael must leave Jacob's Pillow, placing the dancers in the hands of Allison and a very special guest. Two more dancers will be cut during their absence and, upon the BalletBoyz's return, the dancers will have one last opportunity to impress Michael and Billy before the final twelve dancers are selected. Tune in next Friday to find out which dancers will perform at the Dizzy Feet Foundation Gala in New York City.