A Chance to Dance: It All Comes Down to This! The Season Finale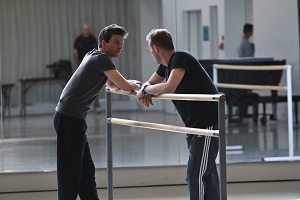 By Stephanie Wolf.
After "a lot of sweat, laughter, and tears," the moment of truth for twelve hopeful dancers and two anxious choreographers has arrived. Everything comes together during the season finale of Ovation TV's reality dance series A Chance to Dance as the "Company"—the group's 'official' title according to the troupe's directors, Michael Nunn and William Trevitt—performs at the Dizzy Feet Foundation gala.
Building the gala performance on the concept of "showing the audience a journey," Billy and Michael employ multimedia to help illustrate the evolution of the company and dancers over the past several weeks. "So much has happened. We've come so far and seen so many things," explains Billy.
It's the day of the show and the nerves as well as the excitement are high. "You never know what's going happen. They've never performed together in front of a live audience. They are young, over excited, nervous, all those things," says Michael with a tinge of uneasiness in his voice.
There are many elements to still be worked out. Michael changes some of sections, adjusting lifts and modifying choreography. Additionally, Eldon Johnson is still unsure if he'll be able to power through the pain and dance in the performance. But everyone is rooting for him to be a part of it in some "shape or form."
With lots of candid and sincere moments with the camera, we get to hear a bit more about each individual dancer's journey, making it clear that they have all grown very close during their time at Jacob's Pillow and New York City. "We've grown to love this group of dancers. They are our company now…a unit," Billy expresses.
These raised emotions only elevate the nerves everyone has as it gets closer and closer to curtain. "When you're onstage, anything can happen in an instant," company dancer Joni Tuttle says in regards to the unpredictability of a performing career. "There's always that fear you're going to blank out and forget everything you've been working on for weeks," adds fellow dancer Sarah Aezer. Patrick Cubbedge wants the world to know, "I hope people understand what we do and I hope people really…take the time to understand…this is something I can't live without." And Tanisha Belnap comments, "You never know who is going to be watching." Hypersensitive of this notion, dancers strive for perfection and often wonder if this opportunity could lead to the next.
The dancers wait anxiously backstage as Billy and Michael give their pre-curtain speech. Michael speaks on the process of getting from the first audition in Salt Lake City, Utah to the stage. "A mixture of theater and reality…[Nigel] sent us on a tour to find some talent…the dancers you'll see this evening are very special people."
Finally, it's time for the world premiere of 12wvelve. The piece opens with the whole ensemble in an interesting 'mushel' of human bodies. Limbs thrash about as dancers pull away from the group, but are brought back in. The sequence appears to go smoothly, but Tanisha gets "wacked" in the nose by Patrick's knee. The incident threatens to interrupt her performance and it makes her get emotional backstage—there's a fair amount of focus on this, but what would a reality show be without a little bit of added drama?
Despite the limited amount of rehearsal, the unison sections look well-polished and the company looks comfortable being onstage together. Though the multimedia effects are interesting separately, but they are distracting when used in conjunction with the dancing.
We soon learn Eldon will perform in David Dorfman's section, "the twelve solo lights." This is one of the most captivating moments of the piece because it allows the dancers to show their individuality and their unity simultaneously. From the movement to the music to the multimedia, every element comes together seamlessly.
Dancing to hypnotic music, Joni and David give an emotionally and technically solid performance in the duet. In the final moments, the rest of the company joins them onstage; they end the piece as a unit. For many of the young dancers, this is the start of their professional career. They've all "evolved and grown" in their own ways, forming a real living, breathing company. It's an exciting time for the twelve dancers and the BalletBoyz—it's potentially the beginning of something more than simply a one-shot performance opportunity.
Shortly after the curtain falls, the dancers gather onstage to hear some unfortunate news from So You Think You Can Dance executive producer Nigel Lythgoe; there is room for only eight dancers on the SYTYCD tour, which means four will not continue on with the others. "To split the company in any way seemed like a miserable thing to have to do," Billy says sadly. There are lots of tears as Laura Gruener, Michelle Galbraith, Jen Osorio Pendelton, and Courtney Saunders are told they will be the four dancers not going on tour. Billy gets emotional after delivering the news. His words to the dancers are genuine and heart-felt.
"There really is a life for this company beyond the tour." Michael and Billy hope to find the means to "bring them back together." What will the future beyond the SYTYCD tour hold for this newly formed troupe of emerging artists? Will there be a Season 2 of A Chance to Dance? For now, we'll have to wait and see…
Photo: Michael Nunn and Billy Trevitt. Courtesy of Ovation.