A Chance to Dance: Seven Days Until the Gala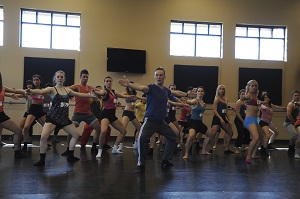 By Stephanie Wolf.
With the final rounds of cuts out of the way, Michael Nunn and Billy Trevitt, the BalletBoyz, take the final company to New York City. SYTYCD Season 2 finalist Allison Holker had to return to Hollywood, so it's up to Michael, Billy, and the exuberant David Dorfman to get the company in tip-top shape and ready for the Dizzy Feet Foundation Gala.
The dancers get a little bit of time off to "settle into" their new swanky surroundings. It's the first chance in two weeks that the dancers have had to relax and tend to their aches and pains. They'll need to refresh because the real work is about to get underway.
Day one of the NYC rehearsals start off with a warm up class, David Dorfman style. The quirky choreographer, accompanied by his fire engine red accordion, take the dancers through a series of exercises to get their minds and bodies ready for the hard week ahead. "The dancers are incredibly generous, really…talented, and now we have the pressure of this final gala show. So everyone is going to be on best behavior, myself included, and I'm really excited," David tells the cameras.
But the dancers' bodies are starting to protest the endless hours in the studio. "I think Jacob's Pillow took its toll. They're pretty exhausted, so we need to worry because injuries start to creep in," says Michael. While physicality is one of a dancer's biggest assets, it's also the most problematic. No dancer is immune to injuries, no matter how strong of a technician he or she is. "There's no point working through an injury because it's only going to get worse," explains Billy. Unfortunately, for David "D.J." Strong, this harsh reality is happening at the most inopportune time. The dancer deals with an inflamed and painful knee, and the medic warns him that the only remedy is not dancing—hearing this is a dancer's worst nightmare. Yet, David persists, "the show must go on." He bandages up his knee and returns to rehearsal.
Billy and Michael want to start working on the final duet of the show, and hope to find the perfect partnership. "It's kind of a big deal…it's the last thing [the audience] sees. So you want it to be really good," says Sarah Aezer, who is paired up with Eldon Johnson. "Honestly, I thought all the cuts were done and the pressure was off. But they came in and told us that we kind of had to fight to get the last duet…here we go again," says Joni Tuttle, who learns the duet with Patrick Cubbedge.
"There's a lot of pressure to be good and to do well," says Eldon, who admits he'll be disappointed if he's not chosen for the duet. The new duos have a short amount of time to build trust within their partnerships. These four dancers haven't worked with each other for very long, making it a challenge to find cohesiveness. Michael stresses, "They need to smooth out all the transitions and make it look effortless"—this is a challenge for Sarah and Patrick who have less partnering experience.
Meanwhile, David works with the rest of the dancers. He gives them with a "challenge" to create new movement and present it to Billy and Michael later. They build on the improvisation exercises they worked on at the Pillow. The dancers continue to soak up his wealth of knowledge and energy. "He dances harder than all of us put together," Michelle Galbraith says of David Dorfman during rehearsal.
Laura Gruener is thrilled to learn she'll be featured in one of the sections. This is Laura's "big moment", and Michael and Billy want to capitalize on her skills as a ballet dancer. Laura will dance en pointe and be manipulated by all of the men in the company. She shows a little bit of fear as she attempts to balance in pointe shoes on the shoulders of the gentlemen. It's not irrational. She's up high in the air and is "a little fragile." It's a challenge for all of the dancers and Billy is less confident about the number after rehearsals.
It's a matter of days before the gala, but everyone has confidence it will come together in time for the curtain. "Dancers are so disciplined that you can get small miracles out of them. They just go, go, go. That's all they want to do," says Michael.
Now, the company must prepare to transition from the rehearsal studio to the performance space. However, in the midst of a run, Eldon's back ceases up. "My heart just dropped," says Michael as he saw Eldon move to the sidelines clenching his lower back. With all of the partnering he does in the piece, it's likely he'll be unable to perform. "I'm older and I'm disappointed that my body failed me…when you put this much effort into something and something so simple can take you out of it," Eldon says broken-heartedly. "He's our best dancer…our linchpin in most of the pieces…we'll have to rethink [a lot of the choreography]." The injury requires more rehearsal to restructure choreography. "It seemed a bit cruel," Billy and Michael say as they are forced to modify the piece with Eldon lying in pain on the floor, watching dejectedly.
Couples are rearranged and the dancers push through more time in the studio despite their empathy towards Eldon and his injury, as well as their own fatigue and aches. David has to learn the entire duet in forty-five minutes with Joni, and Patrick is partnered up with Sarah. The two couples work through the night to make sure they have the steps and transitions down.
"Beginning of a long day", the company starts the tech process in Cedar Lake Contemporary Ballet's performance space, hopeful Eldon will make it for the final performance "in some shape or form." Eldon is definitely out for the final duet, so Michael and Billy take a look at the new pairings to make their final casting decision. Sarah and Patrick perform a clean duet, with a lovely, genuine emotional connection. David and Joni also show smooth transitions and chemistry. Both duets are well executed, making the decision difficult, but after some deliberation, Michael and Billy decide on Joni and David.
On the eve of the performance, Michael and Billy go to check on Eldon and discover the condition of his injury. Eldon will perform in one section, but he's unable to dance the full piece. With the show the following day, Eldon's unexpected injury, and new choreography to digest, the dancers try to wind down and get a good night's sleep.
Next time on A Chance to Dance, it's the moment everyone has been working so hard for…the gala performance! Tune in next Friday for the season finale.
Photo: Paul Morigi / Getty Images, courtesy of Rogers & Cowan