A new Ballet Novel for anyone who loves ballet!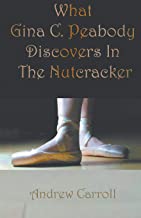 A new novel has been published called What Gina C. Peabody Discovers in The Nutcracker. The book is about a young ballet dancer (who is lovely but technically "challenged") dancing in her local school's production of The Nutcracker, as well as vying for one of four summer scholarships in New York that a major ballet company will award to her school based on the Nutcracker performances. Available now on Amazon, Barnes and Noble and Walmart websites.
Snuggle in and follow Gina C. Peabody through Nutcracker rehearsals, the chance for a New York summer ballet scholarship, unexpected friendships, wardrobe malfunctions and much more!
Though the book revolves around the Nutcracker, the leading character will discover many things along her path: hard work, unexpected friendships, her first crush, navigating her stubborn father's reluctance to accept ballet as something serious, and many other dance inspired truths woven into a story set against this classic ballet. There are challenges, wardrobe malfunctions and other plots that will amuse and engage young dancers aged 9-13, the age range the book is geared towards.
For further information visit here
Image courtesy of the Andrew Carroll