A shared program of dance by Christopher Caines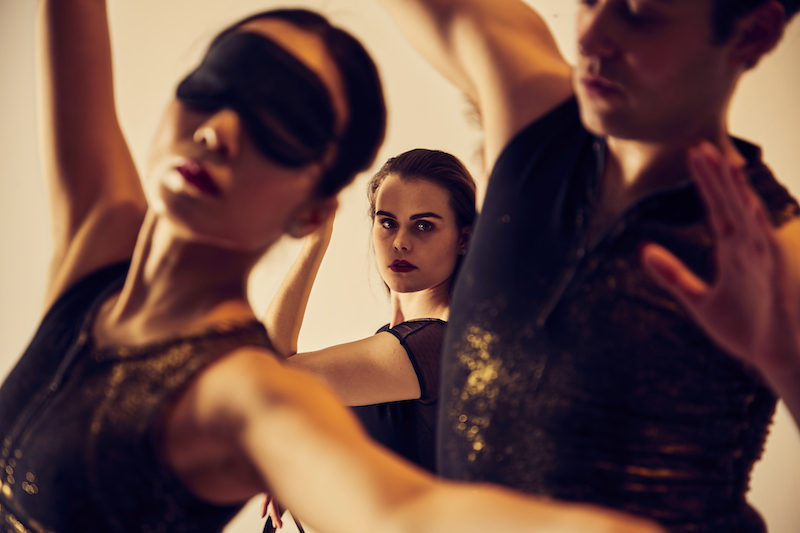 Can't Sleep, Inc and Philip Sandstrom present CHRISTOPHER CAINES DANCE in the premiere of listen out loud / move to keep things whole, a new one-act ballet set to live music by Pauline Oliveros, Paul Kerekes, and Alison Taylor Cheeseman, and featuring advanced student dancers from New York Theatre Ballet School: together with a guest appearance by members of The Bang Group in works by choreographers David Parker and Amber Sloan and a solo by James Waring. Three performances, Saturday May 18, Thursday May 23 and Saturday June 1 at the JCC Manhattan.
Christopher Caines, called "one of the most musically erudite and articulate dance-makers around" in The New Yorker, will premiere listen out loud / move to keep things whole, which he describes as "a dance about women. In this fraught moment between the sexes in our society, I feel drawn to re-examine conceptions of women as dancers–femininity, the iconic image of the ballerina, the musical and symbolic meaning of pointe work." Adds the choreographer: "I seek to highlight the dancers' power, their brave vulnerability, their everyday heroism–how, in words by the poet Mark Strand that inspired one of the ballet's musical scores, dancers always 'move to keep things whole'."
The ballet is set to music by three composers: two scores by Pauline Oliveros, a gentle matriarch of American experimental music: one of her Sonic Meditations (performed by the dancers), and her Tuning Meditation (sung by the audience), in which the composer urges us to "listen out loud." A commissioned score, Four Sonnets by singer Alison Taylor Cheeseman, sets poems from across five centuries by and about women; while three chamber works by composer Paul Kerekes showcase his signature juxtaposition of fiercely syncopated rhythms with pools of suspended tranquility.
Appearing as guests are The Bang Group in a New York premiere by David Parker, a recent revival by Parker of a work by James Waring, and a new duet by Amber Sloan. Says Caines: "While looking forward to my company's twentieth anniversary next year, I've been looking back too. David Parker and I got our start as choreographers on DTW's Fresh Tracks series in 1992 and have been friends ever since. I'm delighted to share the stage with him again. It's wonderful too that Phil Sandstrom, who designed lighting for us back in '92, joins us for this project."
Grab your tickets here: https://christophercainesdance.brownpapertickets.com
Pictured: Dancers Mayu Oguri, Silken Kelly, Jacob Taylor / Photo: Whitney Browne