ABT Gillespie School announces adult classes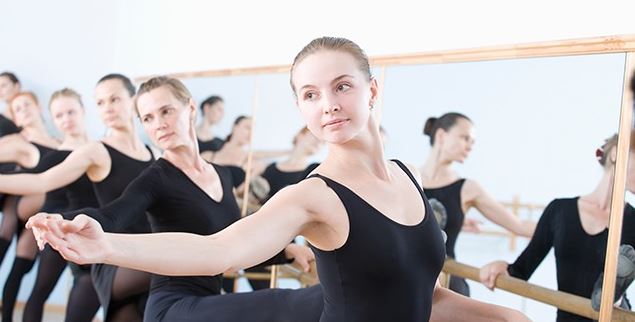 The American Ballet Theatre William J. Gillespie School at Segerstrom Center for the Arts in Costa Mesa, CA, has added open adult classes to its 2015–16 schedule. The adult classes are for men and women and will correspond to the school's classes for young students, running September 14, 2015 to June 11, 2016. They will be on Mondays, Wednesdays and Fridays from 10 to 11:30 a.m.
The classes are intended for advanced intermediate level dancers, recent graduates of college dance departments, dance instructors, professional and pre-professional dancers, retired dancers, and students for whom the school does not yet offer classes at their age or level of study. The classes will be held in the Segerstrom Center's Judy Morr Theater and will be taught by ABT Gillespie School Principal Alaine Haubert with live accompaniment.
Haubert was a consultant in the development of the ABT National Training Curriculum and continues as an advisor. In 1965, she joined American Ballet Theatre, where she performed corps de ballet, soloist and principal roles. She was also a principal dancer for The Joffrey Ballet for 10 years. In addition to dancing classical roles, she was coached by such diverse and exciting contemporary choreographers as Antony Tudor, Agnes de Mille, Jerome Robbins, Eliot Feld, Birgit Culberg, Harald Lander and Glen Tetley in ABT, as well Robert Joffrey, Gerald Arpino, Leonide Massine, Kurt Jooss and George Balanchine while with the Joffrey.
She has taught and coached dance in the United States, Europe, Japan, Canada and the Caribbean. She was a member of the dance faculty of the University of Hawaii for seven years. In 1993, Haubert was invited by American Ballet Theatre Artistic Director Kevin McKenzie to return to New York as ballet mistress.
Haubert served on the dance faculty of California State University, Long Beach for six years. She has traveled throughout the U.S. auditioning dancers for the ABT Summer Intensives and was artistic coordinator for the ABT Summer Intensives in Detroit, North Carolina School of the Arts Intensive and UCI in Orange County. She is a frequent adjudicator and guest master teacher for Regional Dance America.
"I am so pleased that we are expanding our schedule to include these classes for adults," said Haubert. "We are creating a comfortable and non-threatening environment that will satisfy everyone. These are open classes so people of varying degrees of accomplishment and skill will feel welcome and have a challenging workout and a good time in a professional atmosphere. Each class is likely to be a different experience depending on those who attend; we'll customize each class to students' skill levels and what they hope to achieve."
Adult classes at the ABT Gillespie School at the Center will be $18 each. Packages of 10 classes can be purchased in advance for $150. Pre-registration is available online at SCFTA.org/ABTGillespieSchool or prior to classes. Payment will be completed at the time of arrival for classes.
Participating dancers are requested to arrive 15 minutes prior to class to complete registration and for warm-up.
For more information about the ABT William J. Gillespie School at the Center or to enroll for classes, visit the website, email ABTGillespieSchool@SCFTA.org or call (714) 556-2122 ext. 4100.