Ad Deum to present 'From One Heart'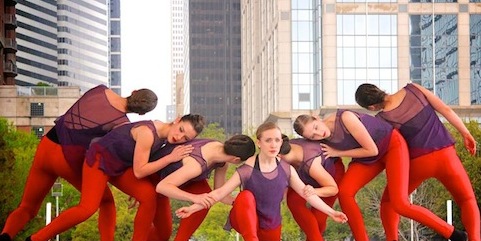 Ad Deum Dance Company will present From One Heart, a fresh and innovative springtime mixed bill, on Friday, May 30 and Sunday, June 1. Recently returning from its annual New York tour and major performance in an open-air festival in Times Square, the company is eager to bring its new choreography to its home front in Houston.
From One Heart will actually embrace the pulsating rhythms and flow of a multitude of dance makers. Ad Deum hosted various choreographers during its season and is looking forward to showcasing their work to Houston audiences.
Ad Deum Founder and Director Randall Flinn will provide the signature pulse that carries the theme throughout the show. His work From One Heart is complete with a wonderful score from cellist Zoe Keating and resounds with articulate rhythms and driving physicality. According to a company media release, the work "ignites the sensations of the soul in a bond of unity that finds its substance in the spark of one heartbeat."
New York resident and Jose Limon dancer/choreographer Durell Ron Comedy will premiere his lavishly dramatic Love In Blood. With an unexpected folk and hymn style composition, the music by master artists Tom Waits and Gavin Bryars is a bit dirge-like in quality but life affirming in content. Comedy has captured the essence of this sacred ballad in an almost holy theatricality of body language that embodies praise and adoration.
Former Alvin Ailey dancer and current NY-based choreographer Freddie Moore will present the Houston premiere of his new work for Ad Deum, entitled My Soul. Ad Deum just performed this work in collaboration with Moore's own company, called Footprints Dance. This fusion took place at The Alvin Ailey Center for Dance where it received rave reviews from many of The Big Apple's own dance movers and shakers.
Keeping in line with its array of guest artists, Ad Deum will bring the intensely compelling creation of former Doug Varone dancer Ryan Corriston back to the stage. Corriston's piece is a labor of heavy burden for victims of human sex trafficking and hope for their rescue and restoration. Appropriately titled Exodus, the artists of Ad Deum clothe themselves in the mission of raising awareness for this horrific injustice of humanity.
Both Flinn and Comedy will also offer additional works on the bill. Sacrifice by Flinn is a deeply Martha Graham-influenced work inspired by former Graham dancer Steve Rooks. The piece is a picturesque look at the cost of true sacrifice and the depth of passion to persevere with submission to a greater cause. Comedy chimes in to the celebration of such a sweet surrender in his intricate and exhilarating Joyful Noise.
To see Ad Deum in its latest springtime production, head to Houston's newest and grooviest performance space, The Barn, on Friday, May 30 at 8 p.m. and Sunday, June 1 at 3 p.m. Tickets are $15 general admission and $5 for children under 12 years old. Visit www.danceaddeum.com for more information.
Photo: From One Heart at Project Dance Houston, choreography by Randall Flinn. Photo by Scott Morrow.