Ailey embarks on 18-city tour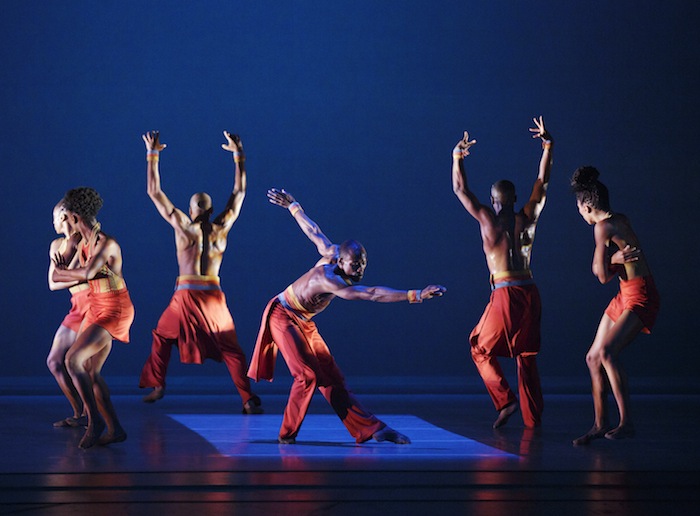 Alvin Ailey American Dance Theater, beloved as one of the world's most popular dance companies, has embarked on a coast-to-coast tour to 18 cities, presenting 80 performances in total. After beginning this week on February 3 at the John F. Kennedy Center for the Performing Arts in Washington, D.C., the company will soon hit other major venues, like The Fox Theatre in Atlanta, the Auditorium Theatre in Chicago, and the Dorothy Chandler Pavilion in Los Angeles. The tour culminates May 10 at the beautiful Prudential Hall of the New Jersey Performing Arts Center in Newark, where Ailey is the Principal Resident Affiliate.
Also, Artistic Director Robert Battle recently announced that, following the tour, the company will return to Lincoln Center's David H. Koch Theater on June 10-21 for 15 performances, continuing a new tradition for the company by hosting a second annual New York City season. The 2015 Lincoln Center engagement opens with a performance featuring the rising stars of Ailey II, gifted young dancers from The Ailey School and inspiring students from AileyCamp in an "Ailey Spirit" spring gala benefit for scholarships and Arts In Education programs.
A few days prior to the launch of Ailey's exciting 2014-15 season at New York City Center in December, Battle visited the White House and accepted the Presidential Medal of Freedom – the nation's highest civilian honor – on behalf of Alvin Ailey. Bestowed 25 years after the passing of the company's legendary founder, President Obama proclaimed that "through him, African-American history was told in a way that it had never been told before – with passionate, virtuoso dance performances that transfixed audiences worldwide." Ailey's national tour begins at the start of Black History Month and carries on the legacy of uplifting, uniting and celebrating the human spirit as Ailey's extraordinary dancers bring life to a wide variety of premieres, new productions and classic works.
The Associated Press proclaimed that "…the timing could hardly be more apt for Alvin Ailey American Dance Theater's new civil rights-themed piece" ODETTA, a world premiere choreographed by renowned Ailey dancer Matthew Rushing. The tribute is set to the musical repertoire of celebrated singer and civil rights activist Odetta Holmes, who was known as "the voice of the Civil Rights Movement" and anointed as "the queen of American folk music" by Martin Luther King, Jr.
The Pleasure of the Lesson, the company's first collaboration with Robert Moses, will also be presented on tour for the first time. Known for his sophisticated and sexy choreography, the new work was created with a cast of 10 dancers for the company's 2014 Koch Theater engagement.
This season's company premieres from Christopher Wheeldon, Jacqulyn Buglisi and Hofesh Shechter are introducing Ailey audiences to ballets by three respected choreographers whose works are being performed by the Ailey company for the first time.
Christopher Wheeldon's dreamlike After the Rain Pas de Deux – praised for its sublime simplicity and intricate partnering – was an instant hit on New York City Ballet in 2005. Set to music by the Estonian composer Arvo Pärt, the sensual male-female pas de deux will be revealed in a fresh light as the Ailey dancers make it their own.
Jacqulyn Buglisi's Suspended Women is a mesmerizing ensemble piece created in 2000, illuminating the challenges and strength of women across the ages. Set to music by Maurice Ravel, with interpolations composed by Daniel Bernard Roumain, it is recognized as one of the signature works by this celebrated former Martha Graham dancer, choreographer and master teacher.
Created in 2006, Hofesh Shechter's acclaimed Uprising features seven men who bombard the stage with intensity in an exhilarating work set to a percussive score by the choreographer himself. Utilizing a movement style that is primal and imbued with high-tension energy, the 38-year-old Israeli-born Shechter has risen to become one of Europe's most sought-after dance creators since his move to London in 2002.
Other works that may be seen on the company's national tour include: a new production of Ulysses Dove's Bad Blood; Polish Pieces by Dutch choreographer Hans van Manen; Sierra Leone-born choreographer Asadata Dafora's groundbreaking 1932 solo Awassa Astrige/Ostrich; Parsons' signature work Caught; Bill T. Jones' modern dance classic D-Man in the Waters; LIFT by Aszure Barton; Chroma by Wayne McGregor; two works by celebrated choreographer Ronald K. Brown; Ohad Naharin's unique Minus 16; Dove's explosive Episodes; Battle's own work Takademe; and of course, the American masterpiece Revelations.
For tour dates, visit www.alvinailey.org. In addition to these performances, the Ailey Organization will offer special master classes for dancers while on tour. See the company's website for more details. Plus, Revelations: An Interdisciplinary Approach curriculum program will be implemented in public schools in Miami, Chicago, Detroit, Los Angeles and Houston.
Photo: Alvin Ailey American Dance Theater in Robert Moses' The Pleasure of the Lesson. Photo by Paul Kolnik.