Ailey presents 5-week NY holiday season
The iconic Alvin Ailey American Dance Theater will return to its home stage at New York City Center for the 43rd consecutive year from December 3 to January 4. The company will present 39 performances for what has become a joyous holiday tradition.
Artistic Director Robert Battle continues the expansion of the company's diverse repertory with premieres from a variety of choreographers and performances of over two dozen ballets that give Ailey's extraordinary dancers many opportunities to inspire audiences.
Odetta Holmes – one of the most influential singers of the 20th century – is rediscovered as renowned Ailey dancer Matthew Rushing marries soul-stirring movement to songs by the artist once anointed "the queen of American folk music" by Martin Luther King, Jr. Rushing's world premiere for Ailey will pay tribute to Holmes's life as a singer, songwriter, actress, activist and "the voice of the Civil Rights Movement," and her musical repertoire encompassing American folk music, blues, jazz and spirituals.
Planned company premieres will introduce Ailey audiences and dancers to ballets by three different and respected choreographers whose work is being performed by Ailey for the first time – Christopher Wheeldon, Jacqulyn Buglisi and Hofesh Shechter.
Christopher Wheeldon's dreamlike After the Rain Pas de Deux – praised for its sublime simplicity and intricate partnering – was an instant hit at New York City Ballet in 2005. Set to music by the Estonian composer Arvo Pärt, the sensual male-female pas de deux will be revealed in a fresh light as the Ailey dancers make it their own.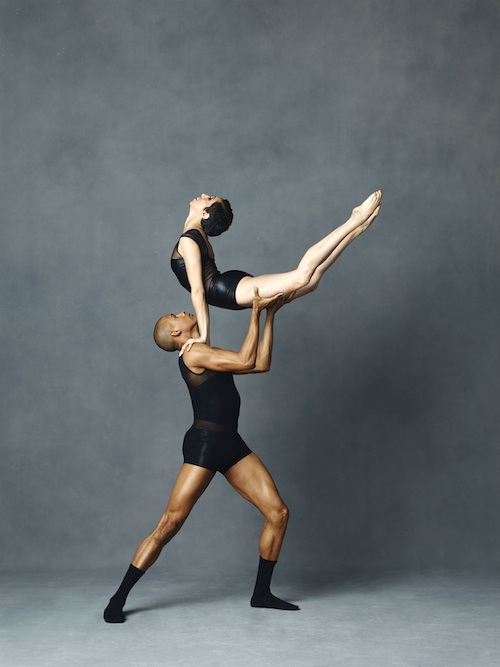 Jacqulyn Buglisi's Suspended Women is a mesmerizing ensemble piece created in 2000 illuminating the frailty and strength of women through time. Set to music by Maurice Ravel, and interpolations composed by Daniel Bernard Roumain, it is recognized as one of the signature works by this celebrated former Martha Graham dancer, choreographer and master teacher.
Created in 2006, Hofesh Shechter's acclaimed Uprising features seven men who bombard the stage with intensity in an exhilarating work set to a percussive score by the choreographer himself. Utilizing a movement style that is primal and imbued with a certain high-tension energy, the 38-year-old Israeli-born Shechter has risen to become one of Europe's most sought-after dance creators since his move to London in 2002.
In a new production of Ulysses Dove's Bad Blood, emotional passion and kinetic energy encapsulate the powerful, yet extremely tender, war between the sexes. The work features music by Laurie Anderson and Peter Gabriel and was originally staged on Ailey in 1986, as the fourth of seven ballets mounted on the company by Dove, who is hailed as one of the most exciting choreographers to emerge in the latter half of the twentieth century.
New York City Center's five-week holiday season will also showcase 2014-15 season premieres and new productions, including: The Pleasure of the Lesson, the company's first collaboration with Robert Moses, known for his sophisticated and sexy choreography; Awassa Astrige/Ostrich, a groundbreaking and influential 1932 solo set to Carl Riley's score of African drumming and flute by Sierra Leone-born choreographer Asadata Dafora; Polish Pieces by Hans van Manen, a colorful ensemble work where 12 dancers create a brilliant kaleidoscope through endlessly shifting formations that contrasts with two sensual pas de deuxes; and David Parsons' gravity-defying Caught, a breathtaking fusion of art and technology demanding split-second timing and athletic stamina.
"Alvin Ailey was a pioneer in creating an American modern dance repertory company, and I am honored to continue expanding our founder's legacy 25 years after his passing. I look forward to returning to New York City Center for the holidays with Ailey's exciting dancers showcasing a wide variety of new works and choreographers in our repertory for the first time," stated Artistic Director Robert Battle. "We are delighted to open the season with a joyful celebration of Joan Weill – someone who means so much to all of us at Ailey and who has helped move the organization forward by leaps and bounds."
The December 3rd Opening Night Gala Benefit performance and party launches the season while raising support for Ailey's extensive educational and training programs for young people. This year's gala will honor Board Chair Joan Weill for 20 years of incomparable leadership at Ailey. The memorable opening performance will begin with the exciting company premiere of Uprising, and then Revelations, danced to live music, will provide the inspiring finale.
In addition to performances of Ailey classics, including Alvin Ailey's signature American masterpiece Revelations and an Ailey/Ellington program, notable ballets from Ailey's recent seasons will also be presented, including Aszure Barton's propulsive work LIFT, Wayne McGregor's spellbinding ballet Chroma, Bill T. Jones' modern dance classic D-Man in the Waters, two works by celebrated choreographer Ronald K. Brown; and Ohad Naharin's unique and innovative Minus 16.
Alvin Ailey American Dance Theater inspires all in a universal celebration of the human spirit using the African-American cultural experience and the American modern dance tradition. A quarter of a century after the passing of the company's legendary founder, Ailey continues to move forward this season under the leadership of Robert Battle. For further information about Ailey's New York City Center season, visit www.alvinailey.org.
Photo (top): Alvin Ailey American Dance Theater's Akua Noni Parker, Sarah Daley and Jacqueline Green. Photo (left): AAADT's Yannick Lebrun and Sarah Daley. Photos by Andrew Eccles.