Ailey releases short film created in Paris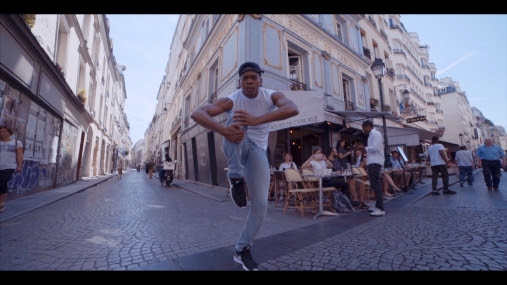 Alvin Ailey American Dance Theater has announced the release of Rue Montorgueil, a joyful short film that sprang to life on a bustling Parisian street when Ailey company members performed with local dancers. Ailey artists perform alongside people of different backgrounds, talents and nationalities, all joined together through the universal language of dance.
Recognized by U.S. Congressional resolution as a vital American "Cultural Ambassador to the World," Ailey participated in the project during a 10-week international tour throughout Europe led by Artistic Director Robert Battle. Fittingly, the short film has been released on United Nations Day, which celebrates the founding and ideals of the UN, with an official theme this year of "Potential in Diversity."
Debuting on Nowness, a global video channel screening the best in culture, Rue Montorgueil launches a year-long, web-based video series highlighting dancers from different parts of the Ailey organization in collaboration with French choreographer and director Redha Medjellekh. In line with Alvin Ailey's belief that "dance came from the people and should always be delivered back to the people," the goal is to showcase dance that works in a digital medium and makes dance accessible to everyone, everywhere at any moment.
Medjellekh, who conceived the project, said, "I wanted to illustrate that no matter what your gender, nationality or age, we can communicate and share a common thread through dance – it's a universal language. Recorded on Paris' Rue Montorgueil in a one-shot take, we sought to create a chain reaction from person to person on one of Paris' busiest and most well-known streets, so the viewer feels a part of the frenetic energy."
The new series will speak to people through dance with varied creative content, resulting in conversations and bringing attention to the artistry of extraordinary dancers.
In this first video, Ailey company members Solomon Dumas, Jacquelin Harris, Ashley Mayeux, Michael Francis McBride, Samuel Lee Roberts and Constance Stamatiou were joined by No Script Krumper, B-Boy Reem Kat, rhythmic gymnast Natalie Fauquette and Claudette, a seasoned amateur who has a passion for dance and happens to be a longtime admirer of Alvin Ailey's work.
Ailey will inspire, unite and entertain during a new season starting with a New York City Center holiday engagement from November 29 to December 31, followed by a U.S. national tour through May. For more information, visit www.alvinailey.org.
Watch this first video here: https://www.nowness.com/series/just-dance/alvin-ailey-dancers-on-rue-montorgeuil-in-paris-redha-medjellekh
Photo: Solomon Dumas takes to the streets of Paris in a scene from Rue Montorgueil, directed by Redha Medjellekh. Photo courtesy of Alvin Ailey American Dance Theater.