Alight Dance Theater in garden performances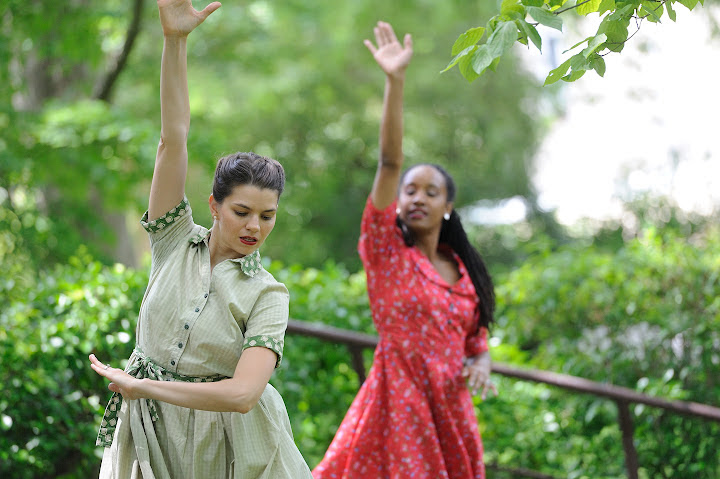 Alight Dance Theater, a small dance ensemble based in Greenbelt, Maryland since 2010, will present Dance in the Garden, a free outdoor performance series produced in partnership with the Chesapeake Education Arts & Research Society (CHEARS.) Alight Dance Theater is creating three site-specific works to be performed in the Three Sisters Demonstration Gardens in the spring, summer and fall of this year.
The first garden performance will be on Saturday, April 26. This celebration of spring will take place in the gardens and green space near the Springhill Lake Recreation Center in Greenbelt. Performances start at 2, 2:30, 3 and 3:30 p.m. In between each show, audiences will have a chance to connect with CHEARS volunteers and take home a seedling to plant.
Featuring original compositions by Penny Martin and music selections from The Four Seasons by Vivaldi, the garden performance will showcase choreography by Artistic Director Angella Foster in collaboration with the dancers. Costumes are by Foster and Assistant Choreographer Monica Warren, whom will perform in the show alongside fellow dancers Valerie Branch, Melissa Brady, Dandrea Johnson, Christine Jones and Matina Phillips.
Following this springtime performance, the Dance in the Garden series will continue in the summer and fall. The next shows will June 1 and October 18, both at the Three Sisters Garden in Greenbelt. For more information, visit www.alightdancetheater.org.
To support this series, see the company's Indiegogo campaign, which is currently trying to raise $3,375 to keep all garden performances free and open to the public.
Photo by Eric Zhang.