All-stars join team for Radio City's spring show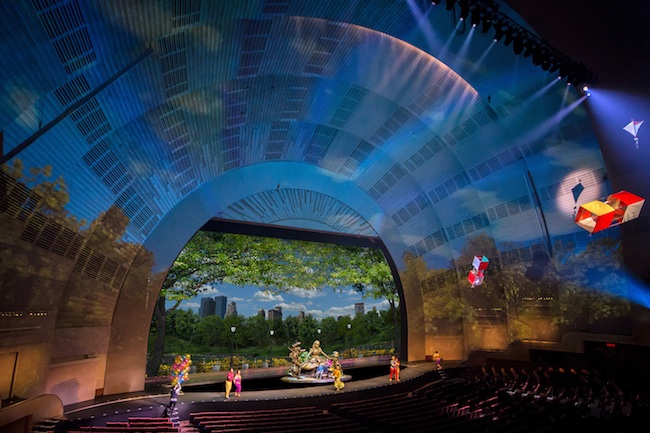 MSG Entertainment (MSGE) has announced that Tony Award-winning actress Laura Benanti and Emmy Award-winning choreographer Mia Michaels have joined the team of the new production New York Spring Spectacular at Radio City Music Hall, to debut in March. The limited seven-week engagement, which features the leggy and gorgeous Rockettes, begins previews on March 12, 2015 and runs through May 3, 2015.
In New York Spring Spectacular, Laura Benanti will play the lead female role of Jenna, a billionaire and CEO of her own company who just purchased a NYC tour company that she plans to take virtual. She has friends in high places, a few you may recognize, but little does she know that she's about to embark on an unforgettable New York City adventure with the Rockettes. Other stars in the production will be announced at a later date.
"It's every actor, singer and performer's dream to be appearing on The Great Stage at Radio City Music Hall," Benanti said. "It's a complete honor to be working with the legendary Rockettes under the inspiring direction of Warren and the rest of the creative team. I can't wait to celebrate spring in New York with this phenomenal show."
Benanti, who can currently be seen on the ABC musical drama Nashville, can also be seen guest-starring on CBS's The Good Wife. Last year she received rave reviews for her performance as Baroness Elsa Schrader in NBC's The Sound of Music Live! On stage, Benanti received a Tony Award for her portrayal of Gypsy Rose Lee in the 2008 Broadway revival of Gypsy. She's also received three more Tony Award nominations for her performances in Women on the Verge of a Nervous Breakdown, Into the Woods and Swing.
Yet, perhaps the most exciting news for dance fans, celebrated choreographer Mia Michaels is joining the creative team for this production as well! Well-known for her work on Fox's So You Think You Can Dance and for collaborating with artists such as Prince, Madonna and Celine Dion, Michaels will now be choreographing on the world-famous and notoriously precise Rockettes. She will create the dynamic opening number of New York Spring Spectacular in addition to soon lending her talents to the new Broadway production of Finding Neverland.
"I've worked with dancers of all kinds and none are comparable to the iconic Rockettes," Michaels stated. "The genuine love of dance and pure athleticism of these performers is second to none. I'm thrilled to be working alongside Warren Carlyle with this talented group of women and am proud to be part of such a groundbreaking production. Together, we are going to bring an unbelievably energetic and vibrant opening to kick off the start of New York Spring Spectacular."
The all-new New York Spring Spectacular takes audiences on a whirlwind adventure across the Big Apple while telling an inspiring and hopeful narrative about three New Yorkers who change each other's lives in unexpectedly wonderful ways. Writer Josh Harmon has fashioned a heartwarming and wondrous journey through New York City.
For more information or to book your tickets now, head to www.rockettes.com/spring.
Image: Central Park scene depiction for New York Spring Spectacular. Courtesy of MSG Entertainment.