Alvin Ailey ADT returns to Paris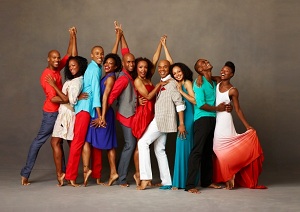 Alvin Ailey American Dance Theater, recognized by U.S. Congress as a vital American "Cultural Ambassador to the World," will return to Paris for Les Etés de la Danse 8th International Dance Festival from June 25th through July 21st at Théâtre du Châtelet.
The 32-performance engagement, supported by Bank of America Merrill Lynch, follows successful sold-out and extended festival appearances in 2009 and 2006. After an acclaimed 27-city North American Tour, Ailey's extraordinary dancers will move audiences in France in a series of 15 premieres, new productions and repertory favorites, sharing internationally the next era in Ailey history led by dynamic Artistic Director Robert Battle.
Home, a new work set to a soul-lifting score of gospel house music by bold hip-hop choreographer Rennie Harris, will premiere internationally. The work is inspired by stories submitted to the "Fight HIV Your Way" contest for people living with or affected by HIV, an initiative of Bristol-Myers Squibb. Alvin Ailey American Dance Theater presented the New York premiere on a day of major significance, December 1st, both World AIDS Day and the day Alvin Ailey passed away from the disease 22 years ago.
International company premieres are Paul Taylor's classic Arden Court (1981) and renowned American-Israeli choreographer Ohad Naharin's Minus 16 (1999), a work unlike any other in the Ailey repertory in the way it challenges the dancers to improvise and invite audience members to join them onstage. Arden Court, the first work by American modern dance master Paul Taylor performed by the Ailey dancers, features a sumptuous baroque score by William Boyce and technically challenging and striking duets, solos, and a men's sextet that showcases the dancers' skill and musicality. Minus 16 features Naharin's acclaimed "Gaga" method and a delightfully eclectic score ranging from Dean Martin to cha-cha, and techno-pop to traditional Israeli music.
A special opening night gala performance on June 25th will feature excerpts from this season's new works and new productions, as well as a performance of Alvin Ailey's masterpiece, Revelations, and Artistic Director Robert Battle's Takademe in their entirety. With the patronage of U.S. Ambassador to France Charles H. Rivkin, Honorary Chair Madame Bernadette Chirac, and Honorary Guest Madame Claude Bessy (Director of the Paris Opera), a gala party in the theater's Grand Foyer will celebrate the 100th birthday of long-time Ailey impresario Paul Szilard.
"Building upon the cherished legacy of Alvin Ailey and Judith Jamison, this season has been the beginning of another exciting adventure for the Company and our audiences," stated Robert Battle, who became Artistic Director on July 1, 2011. "As we start to share this new chapter with international audiences, I'm excited for Parisians to witness the world's most amazing dancers taking the next step in Ailey's inspiring journey."
Photo: Alvin Ailey American Dance Theater.
Photo by Andrew Eccles