Alvin Ailey American Dance Theater bring joyous holiday tradition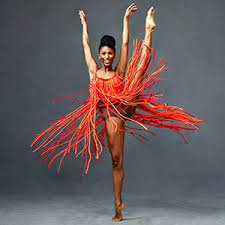 Alvin Ailey American Dance Theater, New York City Center's Principal Dance Company, returns to the theater's stage from December 4, 2019 to January 5, 2020. Artistic Director Robert Battle leads Ailey's 32 extraordinary dancers during this annual five-week engagement, which has become a joyous holiday tradition.
The repertory features more than two dozen diverse works by some of the world's preeminent choreographers, including world premieres by Donald Byrd and Ailey dancer and newly announced Resident Choreographer Jamar Roberts, company premieres by Aszure Barton and Camille A. Brown, and new productions by Judith Jamison and Lar Lubovitch.
Ailey's December 4th Opening Night Gala Benefit performance at New York City Center and party at the New York Hilton Midtown Grand Ballroom honors philanthropist Elaine Wynn and the Elaine P. Wynn & Family Foundation.
The following week, on Tuesday, December 10th, Ailey dancer Jamar Roberts will unveil Ode, the first in a series of three works as he steps into the new role of Resident Choreographer.
Opening on Friday, December 13th, Award-winning choreographer Aszure Barton's dazzling BUSK is an episodic look at the nature of performance and the vulnerabilities that artists face in revealing themselves onstage.
Premiering on Tuesday, December 17th, Camille A. Brown's quietly lyrical City of Rain honors the struggles and grace of a lost friend, showing a different facet of the choreographer than Ailey audiences have seen in her previous works for the Company (The Groove To Nobody's Business and The Evolution of a Secured Feminine).
New productions taking the stage this season include Judith Jamison's Divining (1984) – her first major choreographic effort which incorporates North African, Central African, and Latin rhythms and complex movement – and Lar Lubovitch's Fandango (1995) – a sensually athletic duet set to Maurice Ravel's "Bolero" that explores the infinite possibilities of partnering.
For further information about Ailey's New York City Center season please visit www.alvinailey.org.
Photo credit: Alvin Ailey American Dance Theater