Alvin Ailey American Dance Theater Gala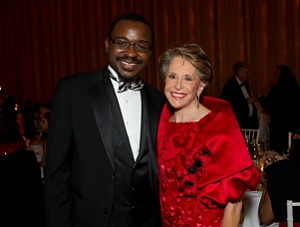 Alvin Ailey American Dance Theater will kick-off a five-week holiday season on November 28th with a star-studded gala benefit performance at New York City Center and party at the Hilton New York. Academy award-winning actress and comedienne Mo'Nique will serve as the evening's Honorary Chair and Alvin Ailey's timeless masterpiece Revelations will be sung live with special celebrity guests onstage.
"Alvin Ailey American Dance Theater is a cultural treasure that ignites your spirit each time you see them," said Mo'Nique, the evening's Honorary Chair. "I take my family to experience the Ailey company whenever I have the opportunity and I am looking forward to taking part in this special night."
The evening begins with Minus 16, Ohad Naharin's eclectic dance and musical excursion that delights audiences with improvisation and an invitation to join Ailey's acclaimed dancers onstage. The inspiring finale of Revelations will be performed live on-stage by special guest musicians. Featured vocalists will include Tony Award-winning actors and singers Audra McDonald, Brian Stokes Mitchell and Anika Noni Rose who will sing Fix Me, Jesus; I Wanna Be Ready and Sinner Man respectively.
Proceeds from the Gala will benefit Ailey's extensive educational programs, including scholarships for the performing artists of the future. For benefit tickets to the gala performance and dinner-dance in the Hilton New York Grand Ballroom, attended by prominent figures in the worlds of entertainment, business, philanthropy and politics, call (212) 405-9031.
"Our opening night gala benefit is a one-night-only event that should not be missed, thanks to the electrifying audience favorites Minus 16 and Revelations, performed by a truly special combination of great musical and dance artists," said Robert Battle, who last year became only the third Artistic Director in the Company's 54-year history. "I can't wait to see audiences at the opening and throughout the season experience all the treasures we will be sharing this December."
Alvin Ailey American Dance Theater will then continue to surprise and delight audiences through December 30th with premieres and new productions that add dynamic choreographic voices to the repertory and give Ailey's extraordinary dancers more ways to inspire. Premieres and new productions include rising young choreographer Kyle Abraham's Another Night, renowned European choreographer Jiří Kylián's Petite Mort, Tony Award-winning The Lion King choreographer Garth Fagan's From Before, Artistic Director Robert Battle's thrillingly intense duet Strange Humors, Ronald K. Brown's landmark work Grace and Ailey Classics, a vibrant anthology of highlights from founder Alvin Ailey's prolific 30-year career.
In addition to encore performances of Ohad Naharin's unique and innovative Minus 16, premieres from Robert Battle's celebrated 2011 inaugural season will appear in the repertory, including modern dance master Paul Taylor's Arden Court and hip-hop choreographer Rennie Harris' soul-lifting Home. Mr. Ailey's beloved Revelations, an American classic acclaimed as a must-see for all and recognized by a U.S. Senate resolution, will also be performed with live music on December 15th and 16th, and with an expanded cast of 50 dancers including members of Ailey II and The Ailey School, on Saturday and Sunday matinees through December 16th.
Tickets are now on sale. Visit www.alvinailey.org, www.citycenter.org
Photo: Robert Battle and Joan Weill at last year's gala. Photo by Christopher Duggan