Alvin Ailey returns to Lincoln Center in June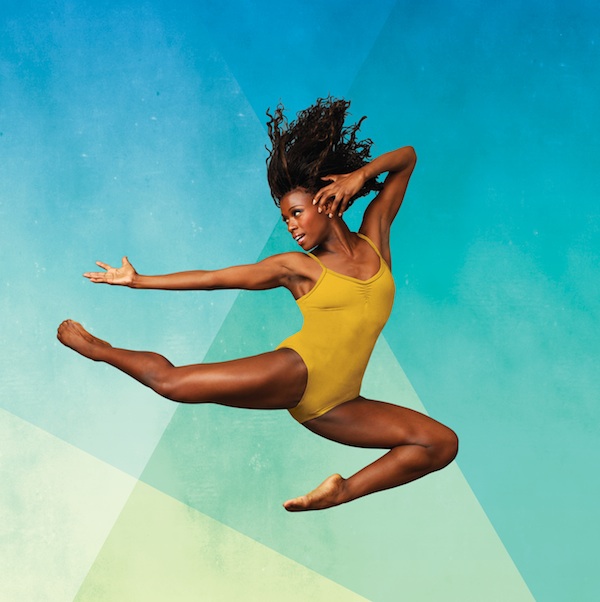 Alvin Ailey American Dance Theater, beloved as one of the world's most popular dance companies, will return to Lincoln Center for the Performing Arts in New York with four different programs for a two-week, 15-performance engagement at the David H. Koch Theater on June 11–22.
Artistic Director Robert Battle recently announced repertory for the season, highlighted by a world premiere from Robert Moses, a first-time collaboration with the company. The season also includes new productions of Hans van Manen's Polish Pieces and David Parsons' signature work Caught, along with the company premiere of Asadata Dafora's groundbreaking 1932 solo Awassa Astrige/Ostrich. Ailey's acclaimed dancers will perform in diverse repertory including encore performances of 2013-14 season premieres and new productions such as Wayne McGregor's Chroma and an "Ailey/Ellington" program, as well as favorites like Alvin Ailey's American masterpiece Revelations.
In 2013, Alvin Ailey American Dance Theater's seven-performance engagement at Lincoln Center for the Performing Arts was the company's first appearance there in 13 years. "To culminate the 25th season since the passing of our legendary founder, it gives me great pride to lead the company back to Lincoln Center for an extended two-week engagement with four programs that showcase the range and artistry of Ailey's unparalleled dancers," stated Battle.
The 2014 engagement opens on Wednesday, June 11 at 7 p.m. with the inaugural Ailey Spirit Gala benefit. Highlights of the opening performance celebration include the company in Caught and Revelations and appearances by the rising stars of Ailey II, gifted young dancers from The Ailey School and talented students from AileyCamp. A soirée on the promenade follows the performance and tickets are available by calling 212-405-9031.
Robert Moses' world premiere on Thursday, June 12 at 7:30 p.m. is being created especially for the company's Koch Theater engagement. Known for sexy, sophisticated choreography that makes audiences want to dance too, he has choreographed for film, theater and opera, exploring topics ranging from oral African-American traditions, urban culture and the nuanced complexities of parentage and identity.
This program (also scheduled for June 14, 18 and 22) includes an encore performance of Chroma, a 2013 company premiere filled with layered, beautiful dancing and astonishing lifts by multi award-winning British choreographer Wayne McGregor. Created in 2006 for The Royal Ballet, the piece has a driving score by Joby Talbot and orchestrations of music by Jack White III of The White Stripes and a luminous set by minimalist architect John Pawson. The performance will end with Alvin Ailey's always inspiring must-see American classic Revelations.
The 8 p.m. performance on Friday, June 13 marks the company premiere of Awassa Astrige/Ostrich by Sierra Leone-born choreographer Asadata Dafora, who blended his vision of a traditional African dance with Western staging in this groundbreaking 1932 solo set to Carl Riley's score of African drumming and flute. With arms flapping like wings, torso rippling and head held high, a warrior is transformed into the proud, powerful ostrich – the king of birds. Dafora is recognized as one of the first to present African dance on the concert stage, influencing many future artists like Pearl Primus and Katherine Dunham.
Along with Awassa Astrige/Ostrich, this program (repeated on June 15 and 21) will include Ronald K. Brown's landmark and spiritually-charged Grace, Ohad Naharin's unique and innovative Minus 16 and D-Man in the Waters (Part I), Bill T. Jones' "Bessie" Award-winning modern dance classic celebrating life and the resiliency of the human spirit that embodies loss, hope and triumph with non-stop movement set to Mendelssohn's Octet for Strings in E-flat Major, Op. 20 (1825).
The Ailey/Ellington program (set for June 14, 15 and 20) showcases Night Creature, Pas de Duke and The River, three of the 14 ballets founder Alvin Ailey created during his career celebrating the musical genius of the eminent American composer Duke Ellington, along with Revelations.
The engagement's second week of performances begins on Tuesday, June 17 at 7:30 p.m. with new productions of Hans van Manen's Polish Pieces and David Parson's Caught. In Polish Pieces, Dutch choreographer van Manen displays his mastery for building dazzling creations from simple motifs and geometric patterns. Driven by the rhythms of Henryk Górecki's score, the 12 dancers in this colorful ensemble work create a brilliant kaleidoscope through endlessly shifting formations that culminate in two sensual pas de deux. The dancer in Parsons' signature work Caught defies gravity as he flies through the air in a bravura display of athletic stamina and a breathtaking fusion of art and technology using split-second timing. Flashing lights capture the dancer in more than 100 leaps, suspending him in flight before magically returning to rest at center stage.
Also repeated on June 19, 21 and 22, this program ends with Revelations and begins with LIFT, a 2013-14 season world premiere by in-demand choreographer Aszure Barton celebrating and challenging the cast of 19 dancers who inspired the process, movement and composition, as well as the original percussive score by Curtis Macdonald.
Tickets start at $25. Visit www.alvinailey.org for more information.
Photo: Alvin Ailey American Dance Theater's Rachael McLaren. Photo by Andrew Eccles.