Amalgamate presents Dance in Italy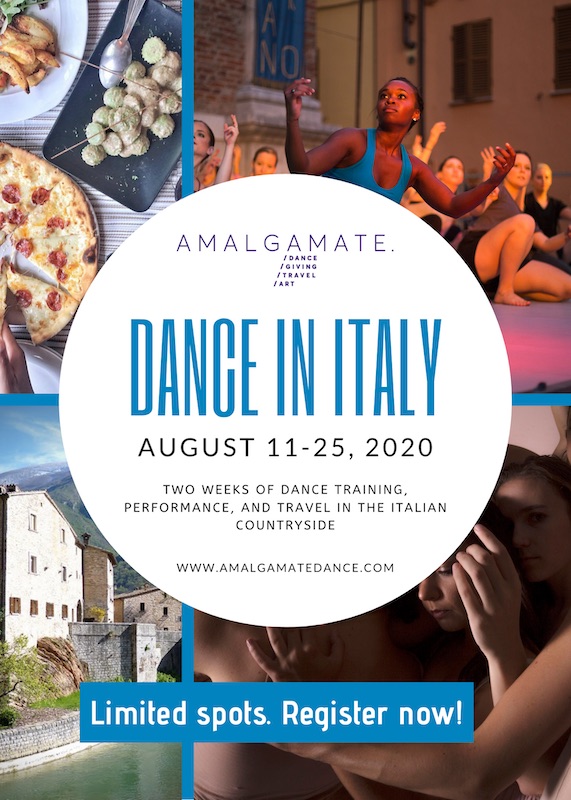 Established in 2015, BREAK OUT: a dance program in Italy offers pre-professional and professional dancers a once-in-a-life-time experience to train and perform in Italy August 11-25, 2020. This two-week dance intensive provides daily technique classes and enriching cultural experiences, from cooking and language classes to local excursions to inspire and further develop the dance artist.
The 2020 international teaching faculty include: Alana Urda of Amalgamate Dance Company (NYC), Irene Saltarelli of Accademia Kataklò (Italy), Ottavia Catenacci (Denmark), Sarah Foster of Amalgamate Dance Company (NYC), and Tanya Birl-Torres (NYC)
YOGA RETREAT IN ITALY AUGUST 17-25, 2020
Relax in the picturesque town of Piobbico, Italy for one week of yoga, embodiment, and connection. Through movement, creative exploration and reflection, this retreat is for those looking for a deeper connection to nature, the self and others. Nourish your mind, body and soul through daily yoga classes, an authentic Italian cooking lesson, prepared meals from a private chef and multiple excursions to discover nearby regions. Immerse yourself in Italy's rich culture, beautiful countryside and Italian cuisine.
Yoga classes (Vinyasa) for all levels will be offered to those looking to enrich their practice both physically and energetically. With a true sense of curiosity and wonder, they plan to explore the questions that lay at the heart of who you are!
This summers extraordinary collaborators include: Amalgamate Dance Company, SoHumanity, Triglia di Bosco This annual program was established in August 2016.
For further information visit: www.amalgamatedance.com