American Dance Festival releases 2015 season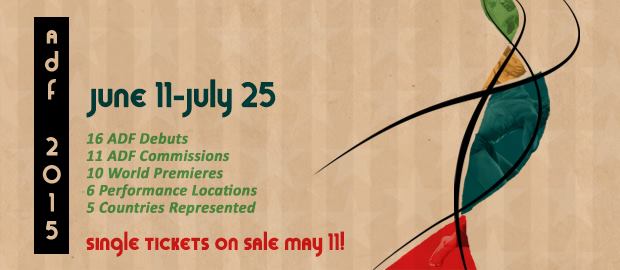 American Dance Festival (ADF) Director Jodee Nimerichter announced the schedule for the 2015 ADF season last week. ADF's 82nd season, running June 11-July 25, includes something for everyone with more than 60 performances by 31 companies and choreographers from around the world.
"We have an electrifying season ahead," said Nimerichter. "As our programming continues to reveal the complex tapestry that is modern dance, what remains central is ADF's core purpose to commission new works while supporting artists throughout their careers."
Program highlights include: Shen Wei Dance Arts celebrating the 15th anniversary of its founding at ADF in 2000 with the ADF-commissioned work UNTITLED #12-2 along with the gloriously re-staged masterpiece Map; "Dynamic Duos" presenting four ADF-commissioned duets created and danced by eight of today's most captivating dance makers; the ADF debuts of Frances's Company Wang Ramirez and Cuba's Ballet Folklórico Cutumba; one night of humorous and heartfelt stories and dancing with Ira Glass and Monica Bill Barnes in Three Acts, Two Dancers, One Radio Host; and much more.
Festival favorites, festival newcomers, and a wide array of dance-related opportunities (many of them free) await dance fans this summer. ADF 2015 introduces to its stage Los Angeles-based BODYTRAFFIC (with work by Victor Quijada, Richard Siegal and Barak Marshall), Heidi Latsky Dance presenting Triptych, and a return to Motorco Music Hall with Awkward Magic, an electric evening of dance theater by Gregory Dolbashian, Jordan Isadore and Deborah Lohse.
ADF 2015 welcomes: the returning companies of Soledad Barrio and Noche Flamenca in the evening-length Antigone; Paul Taylor Dance Company performing classic works, including a special July 4 matinee performance; Bill T. Jones/Arnie Zane Dance Company with part one of Analogy: A Trilogy, Analogy/Dora: Tramontane; ZviDance in Dabke, recognized by the New York Times as one of the top 10 dance favorites of 2013; audience favorite Pilobolus with two commissioned world premieres, along with the crowd-pleasing [esc] and Day Two; Eiko performing the hauntingly beautiful A Body in Places with multiple intimate performances at the Cordoba Center for the Arts; and Doug Varone and Dancers, who will close out the season with Varone's acclaimed solo The Fabulist, ReComposed based on the abstract drawings of Joan Mitchell, and another work yet to be announced.
The season also includes: "Here and Now: NC Dances" with four North Carolina artists chosen by a national panel of judges to present their work in a special shared program in collaboration with the NC Dance Festival; and Footprints premiering works by Minneapolis' Wynn Fricke, South African choreographer Gregory Maqoma and New York-based Anna Sperber, all danced expertly by ADF's top students.
The 2015 festival performances will take place at the Durham Performing Arts Center, Reynolds Industries Theater and Baldwin Auditorium, The Carolina Theatre, Motorco Music Hall and the Cordoba Center for the Arts. Single tickets and subscriptions go on sale Monday, May 11, with prices ranging from $10 to $51 with many savings options available. For more information, visit the ADF website at americandancefestival.org.