An inside look at Graham's 'Cave of the Heart'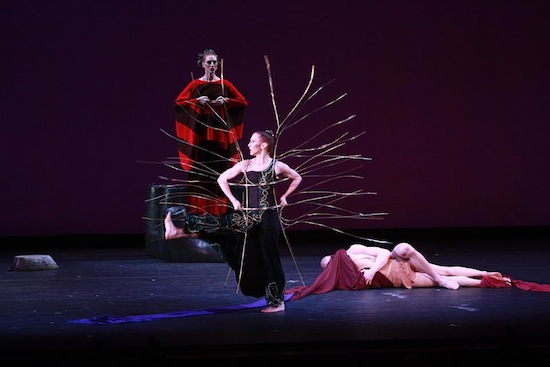 The Martha Graham Dance Company will present a special inside look at Martha Graham's 20th century masterwork Cave of the Heart on January 21, 22 and 23.
Premiered in 1946, Graham's abstract reimagining of the Medea legend was a collaboration between her, composer Samuel Barber and sculptor Isamu Noguchi. Commentary on the creative process will accompany a performance by stars of the Martha Graham Dance Company.
Performances will feature Carrie Ellmore-Tallitsch, Company Soloist Xiaochuan Xie and Company Principals Miki Orihara and Tadej Brdnik.
The Martha Graham Studio Theater is located at 55 Bethune Street on the 11th Floor (at Washington Street) in NYC. All tickets are $20 and include a glass of wine. For more information, visit http://marthagraham.org.
Photo: Blakeley White-McGuire, center, of Martha Graham Dance Company in Martha Graham's Cave of the Heart. Photo by Costas.