APAP 2018 at Peridance Capezio Center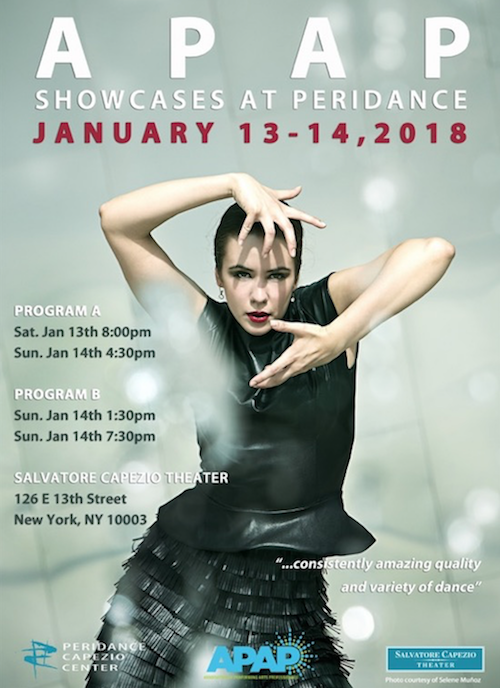 Peridance Capezio Center in New York City will present 20 innovative dance companies during the 2018 Association of Performing Arts Professionals (APAP) Conference week. Shows will be presented January 13 and 14 in the Salvatore Capezio Theater.
In two separate programs, Peridance will feature companies from Italy, Denmark, Chicago, San Francisco, Indianapolis and elsewhere. With over 30 years of experience in the dance arena, Peridance carefully curates its programs to reflect artistic excellence. Organizers know that presenters are looking for creativity, diversity and audience appeal.
Program A (showing Saturday, January 13 at 8 p.m. and Sunday, January 14 at 4:30 p.m.) will feature Selene Muñoz, Peridance Contemporary Dance Company, Jennifer Muller/The Works, Laura Hydak Dance Works, Manuel Vignoulle - M/motions, Mashup Contemporary Dance Company, Phoenix Rising Dance Company, Abarukas, 277 Dance Project, Alessandra Corona Performing Works and Ethan Colangelo.
Program B (showing Sunday, January 14 at 1:30 p.m. and 7:30 p.m.) will feature Peridance Contemporary Dance Company, Visceral Dance Chicago, VIVO Ballet, Ariel Rivka Dance, Azul Dance Theatre, Blue13 Dance Company, Steven Blandino, Mark Foehringer Dance Project/SF, Ballet Nepantla and Maddie Hanson.
The Salvatore Capezio Theater is an official APAP conference venue and a unique 140-seat black box theater located at 126 East 13th Street on the ground floor at Peridance Capezio Center. APAP Conference attendees with a badge can attend at no charge. However, early reservations are encouraged. Email apap@peridance.com to RSVP. Booking presenters will receive an informative Presenter's booklet. On the other hand, general admission costs $15 for each program.
Head to www.peridance.com or www.apap365.org for more information.
---