Arch Contemporary Ballet stages new works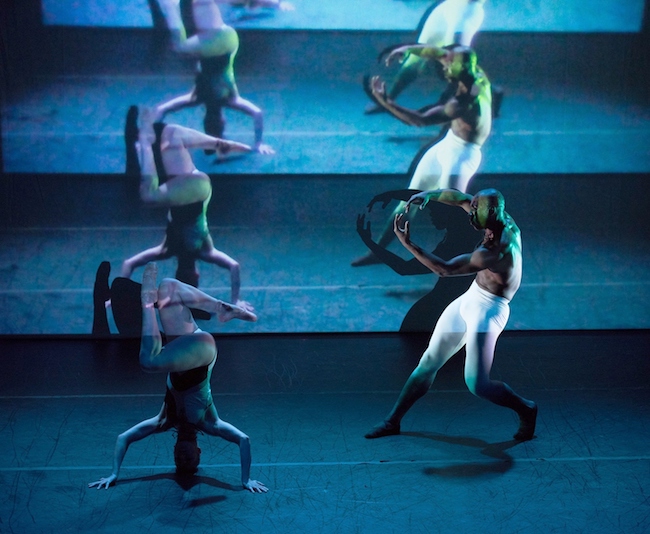 New York City's four-year-old Arch Contemporary Ballet will soon present more world premiere ballets on Friday–Sunday, August 11–13 at the Sheen Center in Manhattan. The company's mission to excite a 21st century audience with new ballet, new music and new ideas will culminate in two programs of triple bills featuring two premieres and two previous works choreographed by Artistic Director Sheena Annalise.
Replica will open the evening to illustrate how "we live in a culture where anything can be replicated or reproduced." The piece seeks to explore the value of an original object. A 3D motion capture backdrop in real-time creates a 4D optical illusion on stage and is complimented by 3D printed costumes designed by Merve Oztemel. The choreography is more experimental, manufacturing sharp bodylines to a pulsing original EDM score by Matthew AC Cohen.
In contrast, a romantic pas de deux entitled Hues of Memory will transport the audience to lush landscapes galvanized by amorous memory. American Sign Language is integrated into the movement, communicating a poem by world-renowned photographer Luis Pons. Violinist Isabel Epstein sets the temperament of the work with a violin-improvised score, which is displayed visually for the hearing impaired with synced lighting technology to the vibrations of the instruments. The theatre space is encapsulated with a greenery maze, setting the backdrop for this passionate story.
The world premiere finale of Pointe in Motion will explore the impact music can play in advances for neuroscience. A slow-motion ink-in-water backdrop will emulate the fluidity of thought between different lobes of the brain while the dancers use Point Motion technology to create the music with their bodies live on stage. Their movement will be traced by sensors seamlessly placed throughout the stage, creating a mix of silence and sound. Music's therapeutic ability to have a profound impact on behavior, problem solving, concentration, interpreting language and communication will be explored in this piece.
The matinee performances will premiere Driftless Fraction, described as "a self-analysis of our personality's uncontrollable tendency to change when we are alone or around different people in our lives." This work is the result of Arch Contemporary Ballet's National Summer Intensive for Dance & Composition at New York City Center. This premiere will showcase the dancers of this workshop and a brand-new composition by composers of the program.
There will be an autism-friendly modified performance on August 12 at 2 p.m. as part of the company's Arch for Autism Initiative.
Advanced general admission tickets are $25 and VIP tickets are $35. Tickets can be purchased online at www.archballet.com. The Sheen Center is located at 18 Bleecker Street, between Mott and Elizabeth Street in Manhattan and is accessible by Subway 4, 6 at Bleecker Street and B, D, F, M at Broadway/Lafayette.
Photo: Arch Contemporary Ballet in Replica. Photo by Steven Pisano.