Artistic Dance Exchange 2019/20 Season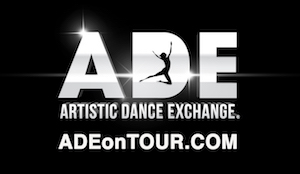 Directors
Juan Borona & Alex Chan The ONLY Dance Convention & Competition Offering International Exchange Programs! What makes ADE unique is that we are the ONLY convention and competition tour in
the US that provides the opportunity to travel overseas and perform in international dance festivals. Our partner festival locations are in Spain, Italy and London. ADE is a platform for established, upcoming, and novice dancers to explore their artistic voice. All levels and ages from 5 years old to adult. ADE believes that all young and upcoming dancers need to be exposed to all forms of dance and performance environments in order to let them experience a world that is far more intriguing than just the commercial competition world. All dance styles from Contemporary, Musical Theater and Tap to Street Jazz and Hip-Hop. Your ADE weekend includes: -Exciting and challenging dance classes all weekend starting Friday evening with open master classes and workshops. ALL DANCE STYLES! -NEW THIS YEAR: Ballet and Tap classes in every city! Ballroom in selected cities! -Mini to Senior level convention classes with our elite faculty -Performance opportunities for individuals and groups in our competition and closing showcase.  2 Competition Levels! -Over $15,000 in scholarships per event! -The opportunity to become a PRODIGY ALL-STAR and assist our FACULTY! -A chance to travel overseas and perform at an international dance festival. Countries involved are Spain, Argentina, Mexico, and the UK.
Discounts for those bringing a group of ten or more.
Main Faculty/Judges
Featuring our ALL-Star Faculty: IAN EASTWOOD, ALEX WONG, MOLLEE GRAY, TOM RICHARDSON, JILL MARIE, MILES KEENEY, HAMILTON EVANS, GEO HUBELA, KEENAN COOKS, KC CASTELLANO and more!
Dates and Locations
NOV 15-17, 2019 
 Dallas, TX | Embassy Suites by Hilton Denton Convention Center
JAN 10-12, 2020  
Pittsburgh, PA | Hyatt Pittsburgh International Airport
JAN 31-Feb 2nd, 2020 
New Brunswick, NJ | Hyatt Regency New Brunswick
FEB 7-9, 2020
 Long Island, NY | Hyatt Regency Long Island
FEB 21-23, 2020
 Minneapolis, MN | Hilton Minneapolis/St Paul Airport
MAR 6-8, 2020 
Miami, FL | DoubleTree by Hilton Miami Airport
MAR 13-15, 2020 
Boston, MA | DoubleTree by Hilton Danvers
MAR 27-29, 2020
 Orlando, FL | Hyatt Regency Orlando Int' Airport
APR 24-26, 2020
 Chicago, IL | Hilton Chicago Oak Brook Resort 
TBA San Jose, Costa Rica
SEASON GRAND FINALE
JUN 28-JULY 1st, 2020 
Daytona Beach, FL
 | 
Hilton Daytona Beach Oceanfront Resort
Contact
Instagram
Facebook
Info@ArtisticDanceExchange.com
www.ADEonTour.com